On a picture perfect morning, the Orba Warblers were out in force for the Spring Trophy challenge – It was a Pairs Stableford Competition and 18 pairs went forth on a Shot-Gun start to capture the prize.
The Dynamic Duo pairing of former captains Sheila Dindar and Bob Edwards proved too strong for the rest of the field when they came in with a great 46pts capturing 1st. prize. Then the Steady, Eddie pairing of John Daniels and Peter Gibson produced 42pts in 2nd. with Malcolm Monti and a fit-for-fight Nick Berry in 3rd. with 40pts. Coming in 4th., on count back also with 40pts. was our social secretary Sally Marsden who once again showed off her golfing skills, together with Steve Smith.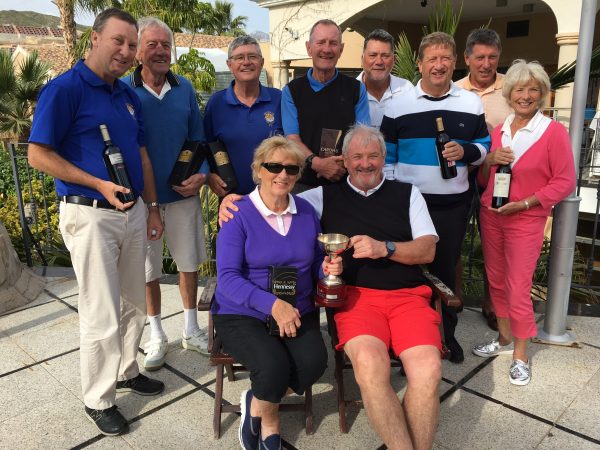 There were two 2's – on Hole 8 Paddy Kenmore and Hole 14 Chris Williamson. The Nearest Pin went to Bob Edwards on Hole 4, Paddy Kenmore on Hole 8, Clive Kay on Hole 11 and Chris Williamson on Hole 14. The Football Card went to John Stent with Stoke City .
A special Thank you to Bonalba for the Tapas and Paella and to Michael for the prizes. A great day out for all.
Next week April 5th., will be a Stableford Competition at El Bosque. First Tee Time is at 10:00am so please arrive by 9:15am for registration. Guests are welcome subject to space availability and current Handicap Certificate. To book, please contact Michael Taylor on mjt@stylepms.com or phone 639242896.