Elche CF 2 – 2 Getafe CF …… By Kevin Rendall
Two goals in two minutes rescued what, hitherto, had been a poor Elche performance against opponents who, for long periods, just looked sharper all over the pitch. A couple of near identical comedy moments in their own penalty area gifted Getafe a thoroughly deserved two nil lead.
Barely anything Elche attempted came off with the, by now, familiar story of misplaced passes, precious little creativity and no cutting edge. Quite what coach Alberto Toril told his team in the sanctuary of the dressing room at half-time we'll never know but it certainly had the desired effect.
It took Getafe just five minutes to benefit from slapstick Elche defending as Portillo gleefully took full advantage of poor goalkeeping by Juan Carlos to poke the ball home from less than a yard out.
Things weren't about to improve in the Elche box !  Somehow, though, they survived until almost the break but then ex- striker Jorge Molina, who once finished the division's top scorer in Elche colours, was on hand to double the visitors lead. Once again, goalkeeper Juan Carlos won't enjoy seeing the video of the match on Monday morning.
To say Elche were altogether better on the restart would be to understate things a tad, so dismal were they for the opening forty five minutes even a modest improvement would have been instantly noticeable. They plugged away with a renewed sense of purpose and you always had the feeling their efforts would get the reward they deserved with only smart saves by goalkeeper Alberto García keeping Getafe ahead.
Twenty minutes in, Guillermo – whose ability, or lack of, seems to polarise opinion at the Martínez Valero – made the breakthrough. A static Getafe back four left him with time and space with which to make no mistake from point-blank range. Game on !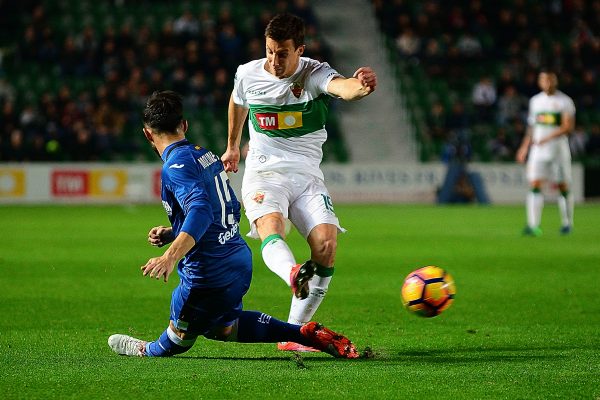 Two minutes later Elche were on terms and, on the balance of play, rightly so. 36-year-old Nino, who arrived last summer as a make-weight in the deal which saw Sergio León move to Osasuna, isn't the tallest centre-forward in the league but rose well to nod in a right wing Luis Pérez cross to level things up.
With the bit firmly between their teeth, Elche then went in search of an unlikely winner. The factory setting for officials in the Spanish Second Division seems to be 'woefully inadequate' and referee Victor Areces Franco is certainly a chip off that old block. Having given Elche nothing all game he then pointed to the spot after an innocuous looking challenge on Guillermo. The home fans could barely believe their luck.
Up stepped stalwart Edu Albacar, who missed the first penalty of his career just two weeks ago against Mallorca, whereupon he promptly repeated the trick. His spot-kick really wasn't good and saw the ball blasted high and wide. A third goal then would, in all likelihood, have seen Getafe off but it wasn't to be.
There was just time for a long-range Albert Dorca shot, which was travelling at warp speed, to come back off the cross-bar. Had that spectacular effort gone in, the place would have erupted.
In the end, it was honours even and the less than seven thousand people present left the ground for the last time this year reasonably happy. If Elche want to improve on that number of paying punters, they're going to need to play considerably better.