By Paul Durrant
Back in the season 2008 / 2009 the league was run by two brothers and named the "Sport and Leisure" dart league. They ran a sports shop at Los Dolses, but decided their future was back in the U.K. This was January mid season.
Myself and Derek Kingsbury were approached to continue running the league, someone had to, so we agreed. The brothers gladly handed over all relevant matters and as a gesture of goodwill l arranged a farewell " bon voyage" at Madigans as a thank you for their efforts. ln between times, l ran over the finances, after been given around 250e,and found the figures didn't add up.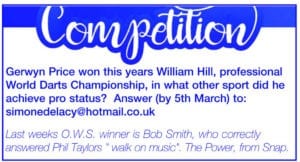 We were aprox. 1000e short. No coherent answers were forthcoming, so l cancelled the farewell do and Derek, myself, plus a few guests ate the sandwiches ourselves and soldiered on with running the league, albeit a little light on the cash side.
The league was renamed " The Luke Salt " dart league, in memory of Luke, who sadly lost his life in a motorcycle accident. The Salt family running "Allsalts" bar in Los Dolses. Brother Sam as everyone knows remained in Spain, the family later returning to the UK.
The finals were held in June at the Rendezvous bar in their spacious function room. Following are some of that years winners.
League winners     Madigans     Runners Up     Breakaways A
K.O.Cup winners   Madigans     Runners Up     Rendezvous
Pairs winners  Mark lloyd and Phil Waller Runners Up   James Brown and Steve Woods.
Highest Finish  167  lan Cooper    Most  180's   John Eyre
The singles final was a walkover for Mark Farmer, opponent Lee Godfrey, unable to attend for personal reasons. To fill the slot we arranged for a best of 5 exhibition final between Farmer and Sam Salt.
Both played very well hitting maximums to level at 2-2. Farmer won the bull for throw in the decider. using only 12 darts to leave a double, Salt close but a throw in arrears, could only watch as Farmer used 2 darts to win.
Season 2009 – 2010
After a successful conclusion to our 1st season, we approached Patrick Spratt a local businessman who owned Imperial Pools, a leading swimming pool supplier, to sponsor the league. Pat as he preferred to be known, had two other showrooms plus a warehouse in Calpe.
The Englishman liked the potential of weekly news reports and readily agreed to part with some of his well earned cash and the lmperial pools dart league was born.
Three new teams were admitted at the A.G.M. Harmonies ( La Fuente ) Fox on the Fairway ( V. Martin ) and Bar Wicked ( Los Dolses ). Cyril Harrison posted an early 112 game shot to lead that category, Geoff Proudfoot hitting a maximum in the 3rd week. At the halfway stage, Rendezvous Bulls and Decades shared top spot.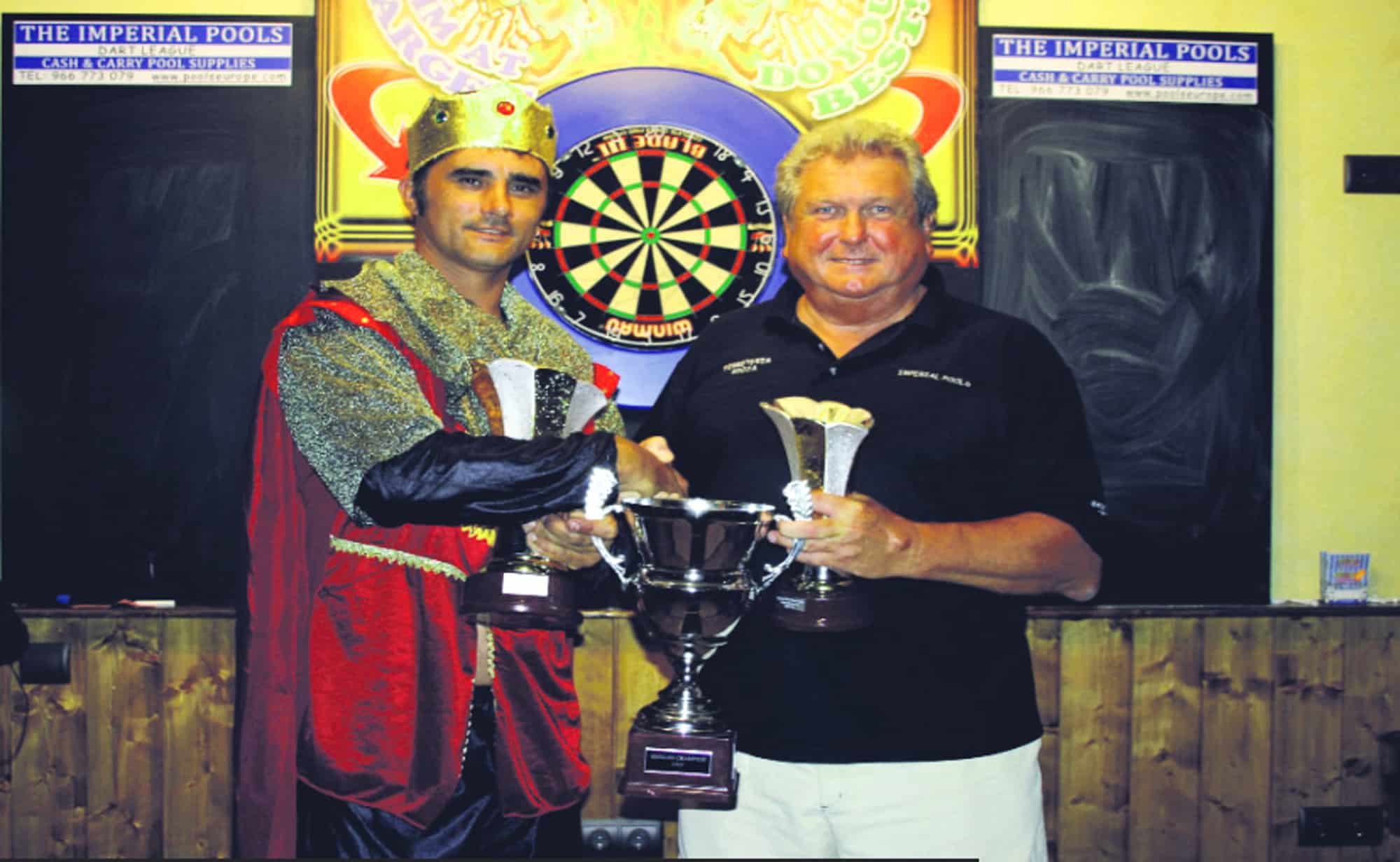 The final table showed Decades had dropped to third spot, and both the Bulls and Madigans finished level on points each losing four matches, the Bulls overcoming Madigans twice during the season. Top spot however went to leg countback, Bulls enjoying a superior leg difference, therefore taking the title. Finals and presentation were held at Fairways, V. Martin.
K.O. Cup winners        Madigans           Runners Up     Nickys Bar.
Mens   Singles             Mark Farmer      Runner Up       Paul Durrant
Ladies  Singles           Amanda Skinner Runner Up       Lorraine Cox
Mens Pairs                 Mark Farmer / Graham Edgar     Runners Up  Sam Salt / Luke Talbot
Highest finish   125     Paul Durrant.
Pat Spratt presented the prizes and confirmed lmperial sponsorship for a further term.