Captain George Marshall Deane selected the Royal British legion poppy day appeal for his charity day this year and hand picked his team to try again to win this annual event. With an excellent turn out of 32 players we all tackled Vistabella Golf course with great gusto to help George achieve his dream.
Sadly this did not happen as his players scores were just below the Vice captains, in actual fact were well below what was needed for the win. However the real winner on the day was the charity who benefited to the sum of 775 euros which was raised from a raffle, donations from members and golf courses, and a special mention to Mal  who knitted over 80 poppy's which were sold and worn by our members as you can see from the picture, well done Mal.
The results on the day were: The captains cup was won by the vice captains team, the highest stapleford score was Alan Corder who was not at all happy about his forthcoming handy cap cut. Nearest the pin on the par 3's were Mike Thomas, Peter List, El Stevo and Bill Martin. Back at O'Brien's where we enjoyed some nibbles the auction and raffle took place and where we raised this incredible amount of money, the celebrations continued on, during which the football cards were won by Alex Bolton and Keith Markham.
A great day was had by all and a substantial amount was raised for the charity, well done all.
Our fun/ bounce game was at Font Del Llopp and was also a huge birthday celebration for one of our oldest members Jim McCarthy who reached the ripe old age of 80 and still playing golf quite well, what an achievement, sadly he was not in the winning team this week but as you can see from the picture he was well looked after and had a great day.
We played the yellow ball format and it was good fun for all the teams, the results were as follows; Nearest the pins were Terry Brooker, Michelle Evans, Andy (come on you yellows) Rawlings, Marc De Roos, and Hermine De Roos. The best Stapleford score on the day was Mike Thomas.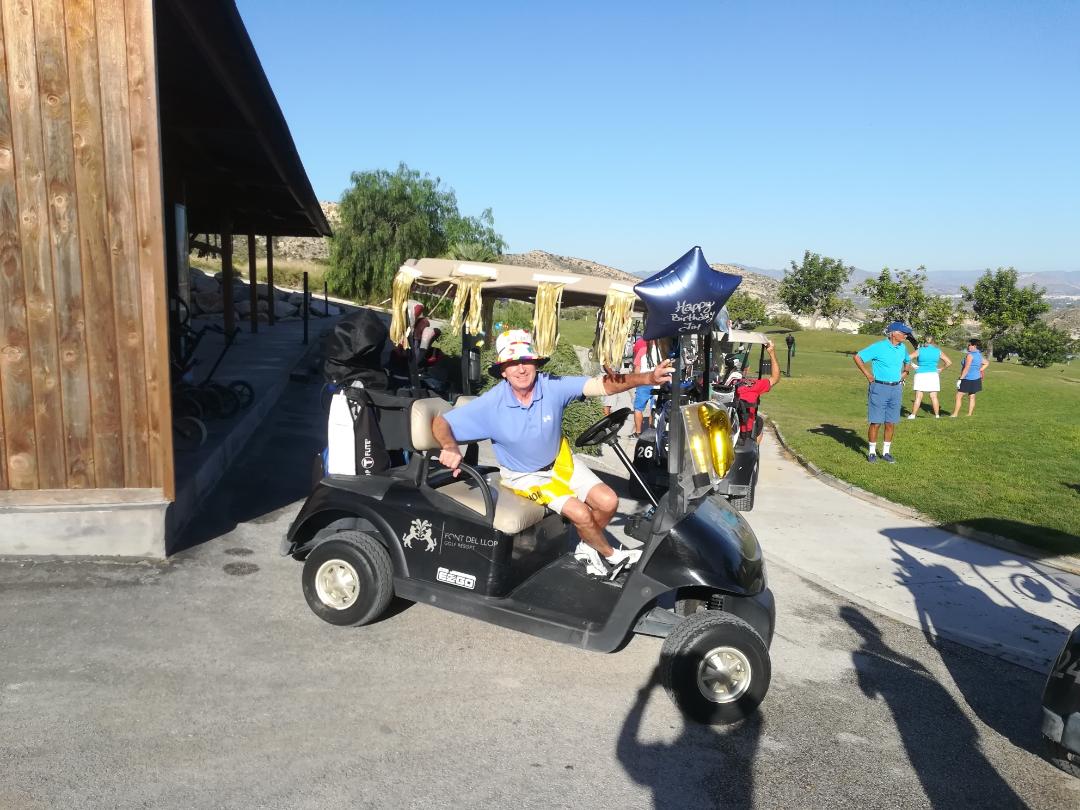 Only two teams brought the yellow ball back and the winning team with 151 points was Mike Thomas, Martin Collins, Sonia Parijs and Hermine De Roos. Back at O'Briens where we continued to celebrate the "old" boy's birthday the football card was won by Steve (lucky again) James. If anyone wishes to play with us or needs any further information please email us at rubysgolf@yahoo.co.uk