Former professional boxer Paul Butlin and his parents Barry and Elaine from Los Montesinos, Alicante, talk Exclusively to Andrew Atkinson about his fight with current world heavyweight champion Anthony Joshua in 2013.
PAUL Butlin faced 2012 Olympic Games Gold medalist Anthony Joshua OBE six years ago, in what was AJ's second pro' fight.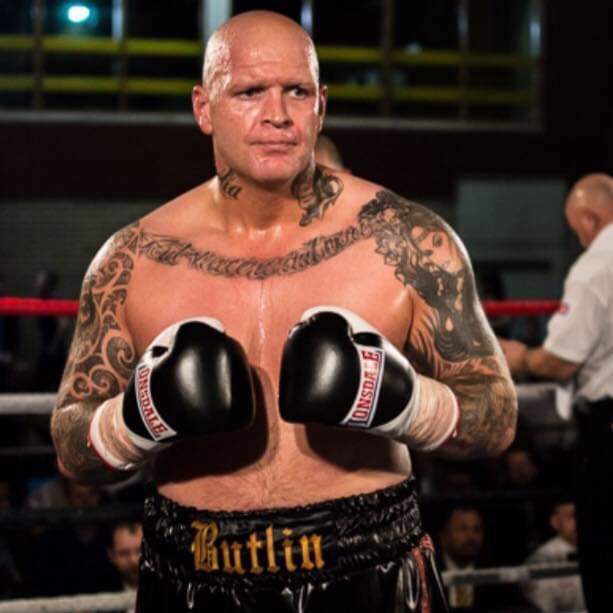 "I'd planned to box non-stop aggression," said veteran heavyweight Paul, 43, who proved to be a sterner test than Joshua's first professional opponent – Italian Emanuele Leo – who he dispatched in two minutes 47 seconds.
Experienced fighter Butlin, 6′ 3″, who retired in June 2016, who had won 14 of 33 bouts going into the Joshua fight, had channelled his plan into unsettling the quicker and technically superior Joshua, with raw aggression and physicality.
The referee stopped the Butlin-Joshua contest 50 seconds into round two: "The plan was to be aggressive from round one.
"I knew if I didn't, he'd stop me," said Butlin, who was 37 at the time, against a 24 years old Joshua.
Butlin rose back onto his feet – but with a cut below his left eye and a badly swollen face – the referee stepped-in to stop the fight.
Joshua, who was 13 years' younger than seasoned stalwart Butlin, has gone on to become the unified world heavyweight champion, having won 22 pro' fights, 21 by KO.
Oakham born Butlin, who started boxing aged 24, turned pro in 2002, aged 26, after 12 amateur bouts.
Butlin, a sparring partner for Tyson Fury, ahead of Fury's victory over John McDermott in the 2010 English title fight, is says that Joshua's right hand punch was the best he has ever taken – but still got up.
Butlin, who had a title fight with Jonathon Banks, on the undercard of the Wladimir Klitschko-Ruslan Chagaev fight in Germany in 2009, watched by 61,000, said: "Anthony Joshua is a nice guy, and we remain friends today."
Former Midlands area champion Butlin, who had a total of 41 fights, winning 16, three by KO, losing 24 and drawing one, said: "It was a pleasure to share the ring with Anthony Joshua."
Paul's mother Elaine, said: "I don't think you realise how famous Anthony Joshua is. When Paul went into the ring with him Joshua was up and coming.
"But Paul said after the fight that Joshua would go on to become world champion."
Elaine, who was at ringside in many of Paul's fights along with his father Barry, said: "Being at ringside was amazing. I was terrible, almost up there in the ring!"
Paul Butlin is featured in Anthony Joshua's book. And his parents are proud of son Paul, who has visited them in Los Montesinos: "We are proud of his achievements in boxing. He has been in the ring with some top boxers," said Barry.
"I wish Paul had got Anthony Joshua to sign his gloves!," quipped Barry.
Elaine added: "Paul had no fear when he entered the ring – he was amazing – and we are very proud of him."