At Montesico Blanco Stadium, San Miguel, last Wednesday, Torry took part in a tri team tournament. Making up the numbers were Churra and Crevillente, from Murcian and Valencian groups of 3rd div respectively. Each team were required to play just one session of 45 minutes against one opponent, followed by the same period against the other later on. First up was Torry v Churra. Riquelme scored from a long range effort on 14 mins, then on the stroke of full time, Chema headed home, giving Churra a 2-0 victory.
Torry line up against Churra.
Juampe, Lewis, Jesus Sanchez, Akapo, Guido, Cabillo, Felipe, Nana, Revi, Rulo, Manez.
Next up were Crevillente v Churra, who drew 1-1.
The final match between Torry and Crevillente ended goal less, meaning Churra won the tournament. Torry created more chances against Crevillente, but it was left to keeper Jesus Duenas to pull off a wonder save on 35 minutes, thus denying Jose Sanchez and also keeping a clean sheet himself.
Torry line up versus Crevillente.
Juampe (Jesus Duenas), Fanara, Jesus Sanchez, Jorge, Guido (Juan), Cabillo, Felipe, Nana (Jon), Revi, Omar, Manez (Benteke).
On Wednesday 8 August, ko 7pm, Torry host Murcian 3rd div side Deportivo Yeclano, in their first home pre season friendly at Nelson Mandela Stadium.
HEADQUARTERS | The Club's offices are up and running.
The new CD Torrevieja headquarters located in Calle Caballero de Rodas, nº56 Bajo in Torrevieja are now up and running, and have the following opening hours to attend to members of the public:
➡ Monday from 17:00 to 20:00
➡ Tuesday, Wednesday and Thursday from 10:00 to 13:30 and 17:00 to 20:00
➡ Friday from 10:00 to 13:30
☎ | Telephone: ➡ 965 719 699
Work is still being carried out on the club's new offices, both in terms of the corporate image and at an organisational level, nevertheless at a good, steady pace. A few days ago, the club's name and logo were added to the front of the new HQ.
The HQ will be used for various purposes, including the club's offices, the shop (which we hope to inaugurate soon) and not forgetting a meeting point and information hub for all the fans and for anyone that would like any information about the club or needs to carry out any club-related paperwork etc.
JUNIOR FOOTBALL | There's still time to register for the Junior football team.
The period to register for the CD Torrevieja youth football team for all ages, without predetermined selection and without excluding any child is still open.
To register and get more information, there are a number of options available: send an email to (direccionfutbolbase@clubdeportivotorrevieja.com) or alternatively, visit our main office in Calle Caballero de Rodas, nº56 in Torrevieja (above)
Omar strengthens the front line.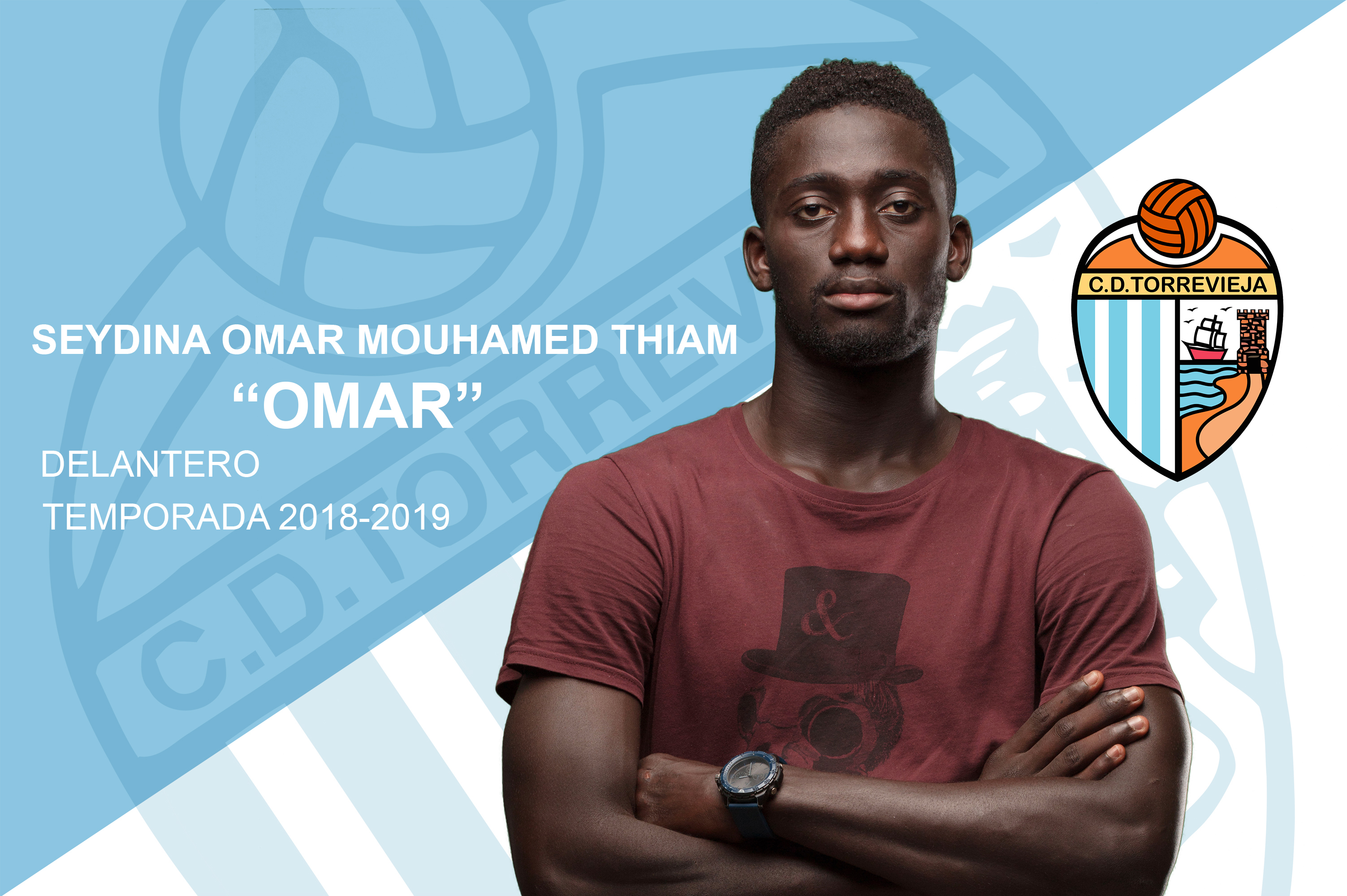 CD Torrevieja has finalised a new deal that will see the addition of Seydina Omar Mouhamed Thiam (Senegal, 1994) to the Club, after an agreement was reached by both parties. Omar is a striker who stands out for his aerial ability thanks to his height of 1,94 cm and his physical power.
The Senegalese front man began his sporting career playing for local teams in his country of birth. He rose through the divisions and ended up playing for the selection into the Senegal sub-17 team.
However, he then left Senegal and moved to the Czech Republic to form part of the Kim Grant International Football Academy for the 2013/2014 season. In 2016-2017 he joined CF Alcalá, in the Preferente Group 1 team, but it wasn't long before he then left for UE L'Alcudia in Group III to finish the 16/17 season.
Last season (2017/2018) he returned to CF Alcalá, where in one match he managed to score a massive five goals, although he ended the season with UD Benigánim, who remained just outside the play-offs to ascend into the Third Division.