Robin Hargrave is known to most of us as the man who holds up the 'poppy collection total' at the District North Annual Conference every January. He is currently in his final year of office as the District Poppy Appeal coordinator, a role that he has occupied sing 2011……but there is rather more to the man than many of you might first imagine because, until he moved to Spain a little over ten years ago, he was a music hall and cruise ship entertainer, working alongside a whole host of household names.
Robin was first hooked on the theatre following an involuntary appearance in a Christmas Panto at the Leicester Opera House. When his family then moved down to Bristol he became a member of a local church group which saw him regularly taking centre stage as a tap dancing, banjulele playing reciter of monologues.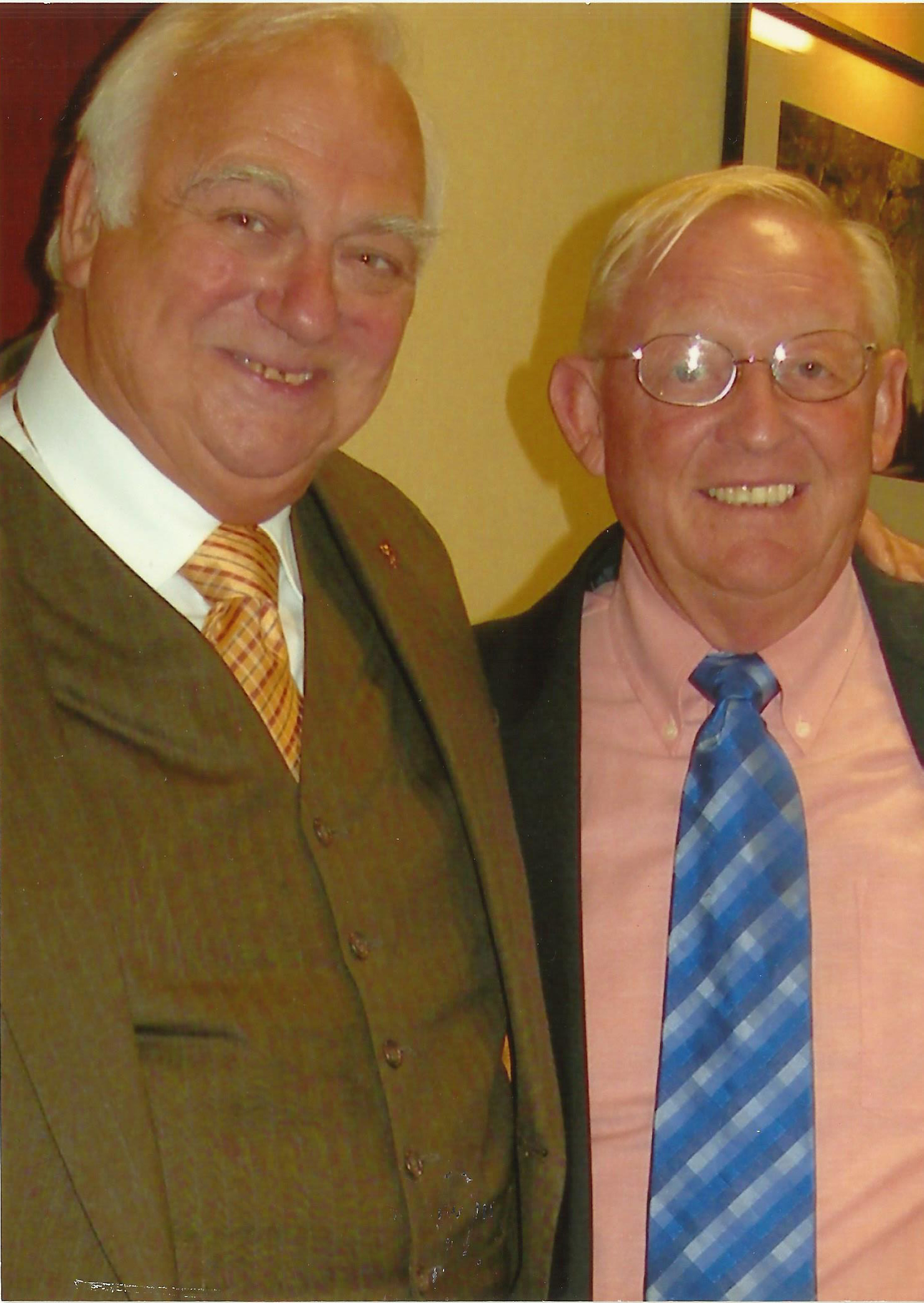 He was captivated by variety and went along to the Empire theatre at every opportunity, doing anything he could to earn the price of a ticket.
Now performing with the Mary Reynolds Juvenile Dance School, his first venture into the 'big time' came at the age of 12 when the Juveniles appeared live on BBC TV during Saturday Prime Time on the Charlie Chester Show.
Following the divorce of his parents, the adoption of his mother's maiden name of Brailey, Bob, as he was now known, performed his way through a multitude of concert party's and dance troupes, even working in a local fair during the summer holidays.
Having left school in 1958 with the intention of joining the Royal Navy Robin couldn't convince his father to sign on the dotted line. In those days a mother's signature was not enough so the only alternative was to join the Royal Naval Volunteer Reserve on HMS Flying Fox.
As a trainee accountant and a member of the RNVR Robin began to appear in local clubs, telling a few jokes, singing and performing magic tricks, with his first residency as the regular Sunday night compere at the Bristol Rovers Supporters club.
Following some success in local clubs and at talent shows Robin was invited to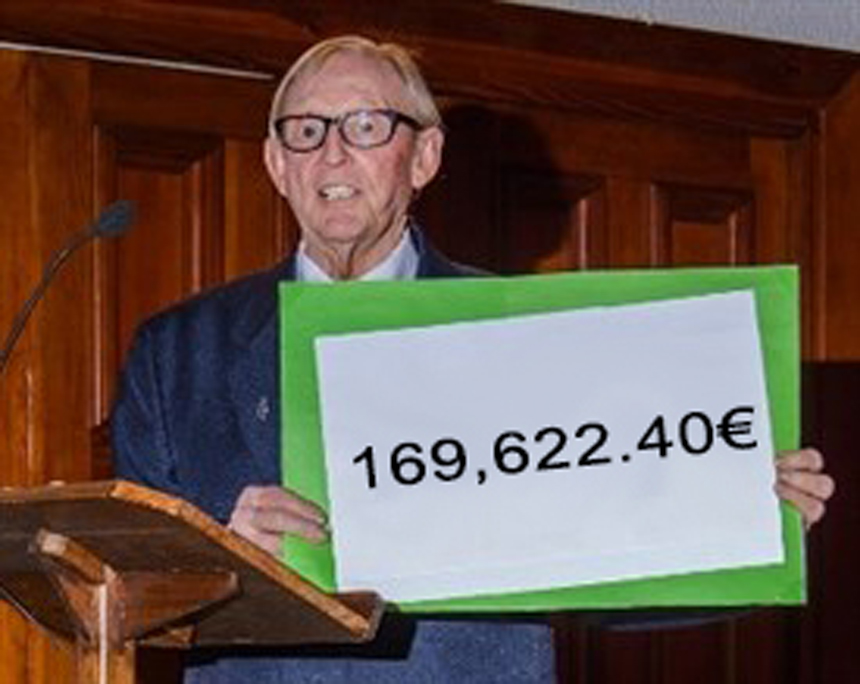 appear at the Lord Mayors Variety Command Performance where he was billed as Bob Brailey, Bristol's Teenage Comedian. That gave him the confidence to audition for Wally Goodman at Butlin's where he was taken on as a Redcoat Entertainer the following year, working alongside Roger Cooke, who, with Roger Greenaway, went on to write dozens of hit songs for the likes of The Fortunes, Cliff Richard, The Hollies, Gene Pitney, Cilla Black, Andy Williams and many others.
Life after Butlin's, and it was back to the fairgrounds as a bingo caller before moving on to manage Smethwick bingo hall with Top Rank and then back to Bristol where the round of clubs began all over again.
Still serving with the RNVR Robin was also managing to get in his 17 days of annual service which included taking part in several NATO exercises.
In 1971 Robin began to work for Bristol local television channel Associated Rediffusion where he presented a pub quiz programme which included an element of darts. The station unfortunately closed down and Robin then pitched his show, but without luck, to HTV. Ten years later, however, ITV Central introduced a similar show with Jim Bowen as the host. They called it 'Bullseye'.
Since those heady days Robin has also appeared in Dr Who and Northanger Abbey, for both of which he still receives royalties. He also presented Radio shows on BBC Radio Bristol where his guests included local personalities, one of which was Tony Blackburn.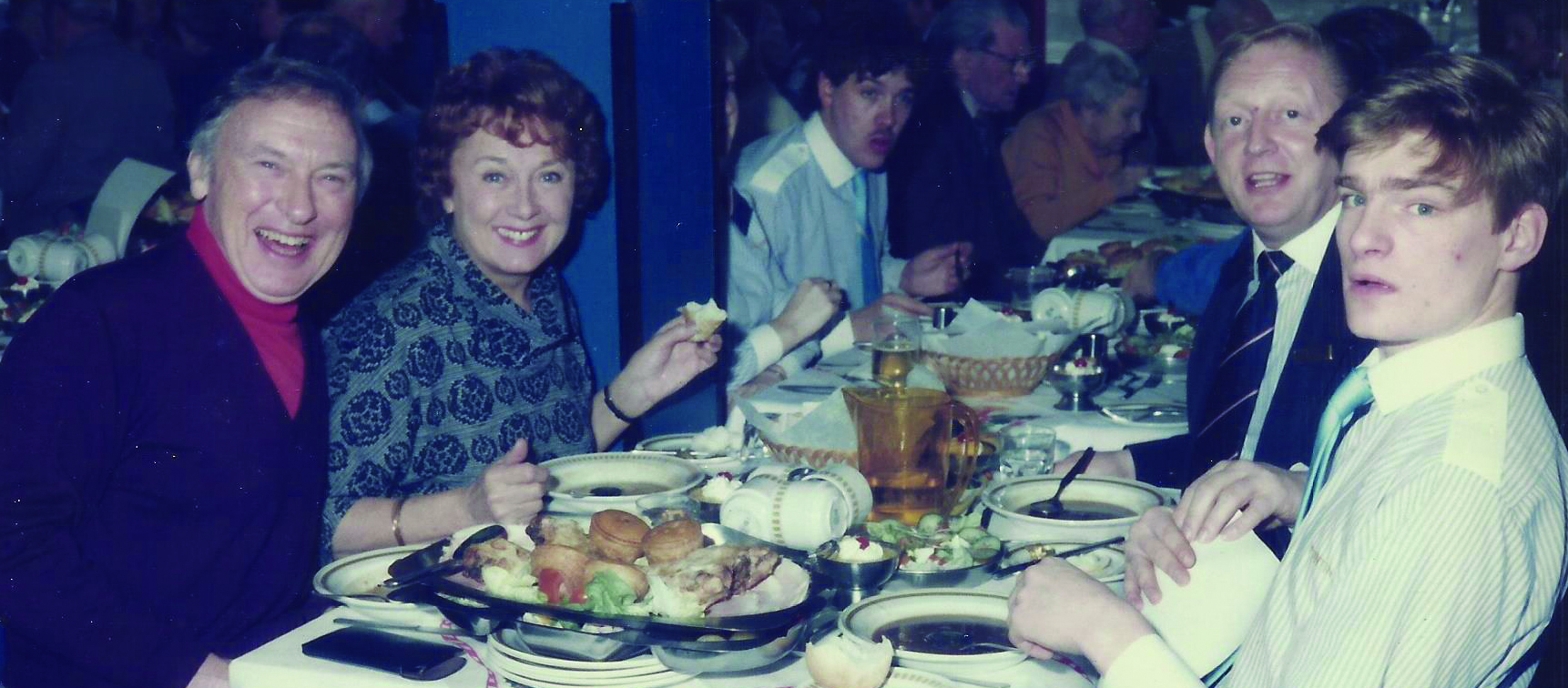 But it was a phone call in 1977 that really did change Robin's life. Cunard were looking for a DJ to join a world cruise in 3 days time. "My feet didn't touch the ground as I wrapped up my affairs in Bristol and flew out to join the ship in Genoa," said Robin.
It was a career that took Robin through to 1991 during which time he rose to Senior Cruise Director, meeting and working with such personalities as Norman Collier, Max Bygraves, Hermione Gingold, Dame Alicia Markova, Reg Varney and Pearl Carr and Teddy Johnson "with whom I spent many happy days in absolute hysterics."
Robin moved out to his holiday bolt hole in Santa Pola when he finally retired in 2004. He quickly joined the RNA in which he served as Chairman and President and then The Royal British Legion of which he is currently Chairman of Gran Alacant and La Marina Branch as well as being a member of the District committee on which he is serving out his final year as Poppy Appeal coordinator.
The RBL and the Poppy Appeal is something that Robin passionately supports. "When I declared the Appeal total in 2011, my very first year, the total raised was € 134,131.20. When I lifted the card at the Annual Conference at the beginning of this year, I'm delighted to say that the figure had increased to € 169,622.40."
In increasing the total to the near 170k mark Robin has built an excellent relationship with Alicante Airport as well as growing the number of 'independents' such as The British School and St. George's Church in Barcelona, Shankly's Bar in Salou and two branches of A Taste of Home British Supermarket in Salou and Barcelona.
There are of course many more which Robin hopes to add to the list following the imminent publication of a map showing the large areas of expat population by the Embassy in Madrid.
"They are such an important part of our annual appeal and I can only thank them all for the part that they play in supplementing our poppy totals. I think that they genuinely enjoy being involved and as the District coordinator I am so very pleased as I see them all work so very hard to raise the extra funding that can make such a big difference to our annual collection."
"I now look forward to handing over the mantle to Esther Navarro who will become the new coordinator following the 2018 Appeal. I know that she too is committed to the cause so during the coming months, as we work alongside each other with a number of new initiatives and ideas, I know that I am handing over to somebody who will be just as dedicated as I have been during my 7 years in post, and finally, I would like to thank everyone who continues to support a Charity which is almost 100 years of age. The funding that you provide really does makes such a big difference to those veterans who have given so much and now live with us here in Spain."
You don't need an Armed Forces background to attend a Branch event. It is a great opportunity to make new friends. So to find a local Branch, please visit our website: www.britishlegion.org.uk/counties/spain-north. For assistance and information please either ring 676 45 17 80 or email assistance.rbl.dns@gmail.com