On Tuesday, December 20, Campoverdians once again gathered in the Rusty Nail (the local village pub) for the annual community Christmas Carol Singing event.
Organised by Campoverde Church and the Rusty Nail (a local bar), this had been due to take place on Sunday the 18th but had to be abandoned due to the horrendous storms that hit the whole of the Costa Blanca.
Despite the disappointment of having to postpone it at the last minute the church and the Rusty Nail were determined not to abandon this highlight of the Campoverde Calendar altogether  and so rearranged it for as soon as possible when the weather was forecast to be dry once again.
So, on Tuesday it went ahead and was a roaring success. Nearly 200 people turned up and together they sung their hearts out to all the most well known and best loved carols. During the singing lots of local children acted out the nativity pageant.
Father Richard, Anglican Priest, explained the true meaning of Christmas and why it is so important that amongst all the eating, drinking, giving and receiving we remember that it is the birth of Jesus, a baby who changed the world, that we are celebrating.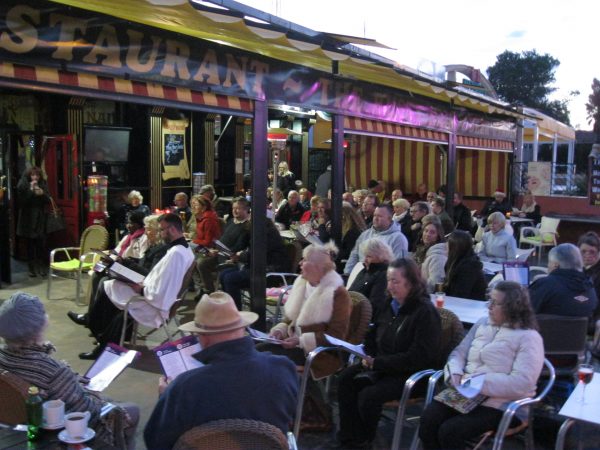 The grand finale was the singing of Ding Dong Merrily on High accompanied by the ringing of bells and the rousing chorus of "Gloooooria, Hosanna in Excelsis!" Jimmy, from the Rusty Nail then provided mulled wine and mince pies and everyone went home feeling that their proper Christmas had just begun.
Campoverde Church is providing many activities and events throughout Advent to help people build up to the day when we celebrate Jesus' birth: there is a Nativity Trail in the church garden, telling the story of the birth of Jesus in words and pictures and ending at the stable scene; the posada, where figures of Mary and Joseph travel around people's houses spending a night in each to remind them of the journey Mary and Joseph made to Bethlehem; the Memory Tree on the terrace of the Rusty Nail for people to write a Christmas message to a loved one who is no longer with them; and finally Midnight Mass at 11.30 pm for everyone to go to Campoverde church and welcome the start of Jesus' birthday.
For further information about Campoverde Church contact Maggie Dew on 966762264 or maggieruthdew@hotmail.com or visit their facebook page on www.facebook.com/campoverdechurch.