By Andrew Atkinson
TRIBUTES have poured in following the passing of CD Montesinos football club former President and lifelong supporter Joaquin Lorente Garcia.
Nicknamed Jaime, and affectionately known as 'Pepe' by many, as owner of Casa Pepe in Los Montesinos, Alicante, Joaquin died on June 19.
The funeral service of Joaquin, father of CD Montesinos midfielder Maccan, one of three sons, took place at the town square Church on June 21.
Speaking to me, Maccan said: "My father was a great person – who has helped with everything he had."
CD Montesinos football supporters club President Eddie Cagagio arranged flowers for the funeral, on behalf of the Full Monte supporters club.
"It is a very sad time for the club and our condolences go out to the family at this time," Eddie told me. Joaquin was the long term President of CD Montesinos and it was he who kept the club running."
"He was very passionate about CD Montesinos, attending all games. And he was always happy to talk about the club. He was always upbeat – even during the times when things were not going too well. His passing is certainly the end of an era at CD Montesinos," said Eddie.
Eddie said he will always have fond personal memories: "I used to see him regularly during the week in town.
"His favourite 'tipple' was a brandy glass – with one ice – filled with Orujo a drink that, for a few of us, will always be known as a 'Jaime'," said Eddie.
CD Montesinos fans, some who donned the club's colours at the funeral, also paid their respects: "Condolences go to Maccan and the family. We will miss him at games," said David Winder.
"Jaime was a lovely guy and he will be missed by all who knew him," said club Treasurer Howard Yeats.
"Rest In Peace", Jaime. You were a good man, someone who really loved football," said Javi Fernandez.
Former CD Montesinos manager Carlos Perez, who led the club into the Valencia 1st Regional, said: "It is sad to hear the news of Jaime passing. Condolences go to the whole family, especially Maccan. Much love goes to them."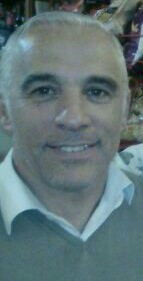 Former Torrevieja player Perez said: "Jaime always had a smile. And was a person with a great heart."
Maccan, whose favourite picture with his padre, was a team picture taken during the time he played at CD Cox: "My father was nicknamed Jaime. He was always involved with CD Montesinos," said Maccan.
Perez, who created history, in the club reaching the Valencia 1st Regional, added: "Jaime told me that nothing would make him happier, than seeing the club in the 1st Regional.
"Nothing would be greater, he said. I am very happy that he saw that wish."
*Andrew Atkinson, sports correspondent for the Costa Blanca and Costa Calida Leader newspaper, and his wife Helen, along with the management, send their condolences to the family.