This period of Advent is the time before Christmas when Christians look forward in hope to the birth of Jesus. Every year Campoverde Church is determined that the people of Campoverde prepare properly for this most important celebration and this year is no exception. From December 1 figures of Mary and Joseph have been travelling around the homes of Campoverdians, staying a night in each.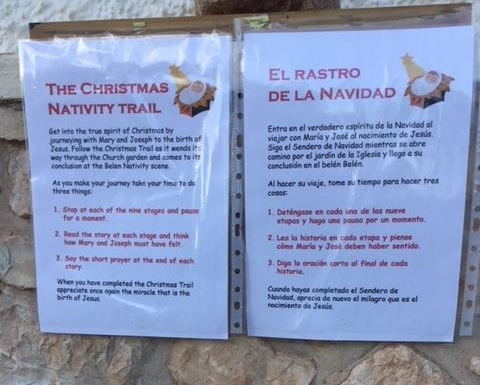 Throughout December the Church Garden contains a "Christmas Trail" highlighting all the stages leading up to the birth of Jesus ending at the belén in the centre of the garden. Even the sign in the garden contains a Christmas message! The terrace of the Rusty Nail hosts the Campoverde Memory Tree, placed there by the Church, for people to hang cards on with a personal message to their loved ones who have either died or who for some reason can't be with them at Christmas.
On December 8 the Church is holding a Christmas Market and Toy Donation on the terrace of Celcius Hair and Beauty from 11am to 2pm. In addition to being able to buy Christmas gifts, Campoverdians are invited to bring along unwanted toys to be given to the orphanage in Orihuela. Later that day at 6pm there is a joint Advent Service with all the churches taking part.
The highlight of the celebrations will be, as ever, the Community Carol Singing on the terrace of the Rusty Nail. This has become a major annual event in Campoverde and many local people come along to sing their hearts out for Christmas! This year it will be on December 20 starting at 6pm.
Jimmy will once again provide mince pies and mulled wine and there will be special guest appearances by local children as they re-enact the Christmas story. On Christmas Eve there will be Midnight Mass in the Church at 11.30pm where everyone can take a break from the frantic parties and preparations for Christmas to be still and celebrate the birth of Jesus Christ.
Maggie Dew from Campoverde Church said, "Christmas is such an important time for us all and especially for Christians because this is the time that we remember and celebrate the fact that God sent His Son into the world to live like us and experience the types of things we experience.
Through knowing and understanding this we know that God truly loves us, truly cares about us and truly understands what it is like to be human. We want the people of Campoverde to know that Campoverde Church is with them and there for them all year round and wants to make this most important time even more special and relevant in their lives. We want to make sure Christ is put back into Christmas in Campoverde."
Further details can be seen on posters around the village and on Campoverde Church facebook page on www.facebook.com/campoverdechurch