A disassembled 'Melody-Uke' Banjo, said to once belong to ukulele star George Formby, has been offered to be used in the film 'Formby's Lost Love'.
London based Stuart Chipperfield, who was left the Melody-Uke by a gentleman who he cared for, contacted Formby's Lost Love author Andrew Atkinson, who is turning the book into a film with Preston Movie Makers.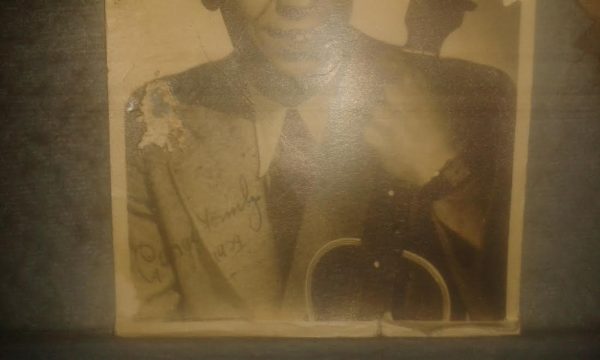 "Andrew is more than welcome to use the Melody-Uke in the film Formby's Lost Love," said Stuart.
The gentleman who Stuart cared for, for 15 years, has passed away. And Stuart said: "I've kept this close to me – until the right time came along – which is now. It has been in the attic,
"And if Andrew would wish for the instrument I will send it to be used in the film."
A 1930s Melody-Uke, said to be in original condition, with spares and in its original case, sold in 2016 for £380, said to be played by a guy known as 'Uncle Moody' in WW2 – and used to entertain the troops in Torbuck in 1942.
Wigan born Formby toured with the Entertainments National Service Association (ENSA) during WW2, entertaining Troops in Europe and further afield, during 1939-42.
"The Melody-Uke could well be one that George Formby used during this time. The uke and its case are certainly well-worn, and as such, deemed as being well-travelled," said Los Montesinos, Alicante author Andrew.
It has been confirmed that following Formby's death in March 1961, and a subsequent auction of his belongings in June the same year, a Melody Uke was amongst his assets for sale.
"The George Formby instrument belonged to a gentleman who has passed away. He purchased it at the auction in 1961," said Stuart.
The Melody-Uke Banjo will need a complete overhaul repair – including tuning pegs, the vellum drum head, which is severely damaged.
If a Banjo repairs specialist is interested in tasking the challenging Melody-Uke repair contact Andrew Atkinson on: 07702340744.
"It is great in what Andrew Atkinson is doing, in producing a movie, based on his book Formby's Lost Love. Good luck on the show," said Stuart.