Vega Sur Fire Station Torrevieja, Ambulances and Police race to emergency at Calle Los Molinos with residents evacuated
By Andrew Atkinson
Vega Sur Fire Station Torrevieja, ambulances and police raced to an emergency call on May 16 at 5am after a fire alert on Calle Los Molinos, close to the Park of Nations, that lead to the evacuation of residents.
The emergency services arrived at the scene to see a raging fire on the first floor of a six-story building, engulfed by flames.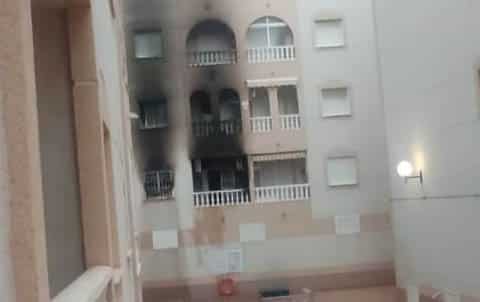 A Command and Headquarters Unit along with eight units and firefighters attended the incident, with ambulances present on standby.
The local police and Civil Guard also attended the scene, as intense smoke billowed through windows that lead to people being evacuated from neighboring premises.
The fire was extinguished within one and a half hours following the emergency call. The cause of the fire is unknown. No casualties were reported.
Caption: Vega Sur Fire Station Torrevieja, Ambulances and Police raced to emergency at Calle Los Molinos.