By the time you read this article we hope that the 47,000 people eligirihuelable to vote in Orihuela have all done so and that, whoever the winners might be, they have a strong mandate from the people of the municipality and are now able to work through their legislation from a strong base. However as I cast my vote on Sunday morning in Nautico Campoamor the turnout was decidedly low.
Nevertheless, with all of the party leaders bearing confident grins in front of their supporters cameras on Sunday morning, the one common fear they were able to share was the prospect of a low voter turnout.
As we go to press, however, the participation is of it not being very high, but all signs are that it will increase as the day goes on, with the afternoon sunshine encouraging many to get out and vote.
Certainly the seven Orihuela party leaders were out bright and early with Comprimis spokesman Cayetano Portugués, the first to go through the polls. He did so at 9:45 at the Colegio de la Ocarasa, as his party seeks, for the first time, to win a council seat.
The PSOE candidate, Carolina Gracia, voted at 10.15 at el Centro Social de Correntías. The Socialists won 8 council seats in 2015 and are confident of expanding their representation to become the key force in the municipality.
At 10.45 it was the turn of the Cambiemos-CLARO- Unidas Podemos coalition, Carlos Bernabé who exercised his right to vote in the María Moliner library. The party currently has two councillors but is forecast to increase it's share of the vote having teamed up with CLARO and UP. Indeed, whether visiting or voting, CLARO President Helene Akerman, was also in a buoyant mood as I met her at Club Natico.
At 12 noon the PP Mayor, Emilio Bascuñana, and José Aix, the leader who hopes to be soon filling his shoes, were both at their respective voting stations, Bascuñana at the María Moliner Library. The PP currently has 11 councillors and seeks to achieve an absolute majority that will avoid it entering into a coalition, however all the indications are that there will be no majorities.
Ciudadanos, with 3 council seats, have been part of the PP coalition during the current mandate. They now say that a similar pact with the PP in the future is unlikely as they too hope to at least double the number of seats that they enjoy in the municipal government.
Aix voted in el Centro Social de Desamparados
The leader of Vox, José Manuel García Escolano voted in the hamlet of La Murada. Vox too is a party that is hoping to achieve its first council seat with indications being that it is likely to do so.
By mid afternoon voting was proceeding normally with over 40% of votes cast by 2pm, although there were reports that the Vox ballot papers had been stolen from one polling station while the police were called to another following up reports that voters were being canvassed on their arrival.
There are currently 47,647 people who are eligible to vote in these elections, an increase of 300 from 2015.
Complaints in Torrevieja
In Torrevieja there were complaints from the City Council Secretary, as well as many members of the public, that the secrecy of an individual's vote was not being guaranteed, as voting papers were displayed on tables in full view of auditors and observers, enabling anyone in reasonably close proximity, and with a knowledge of how the ballot papers were laid out on the tables, to see a voters choice.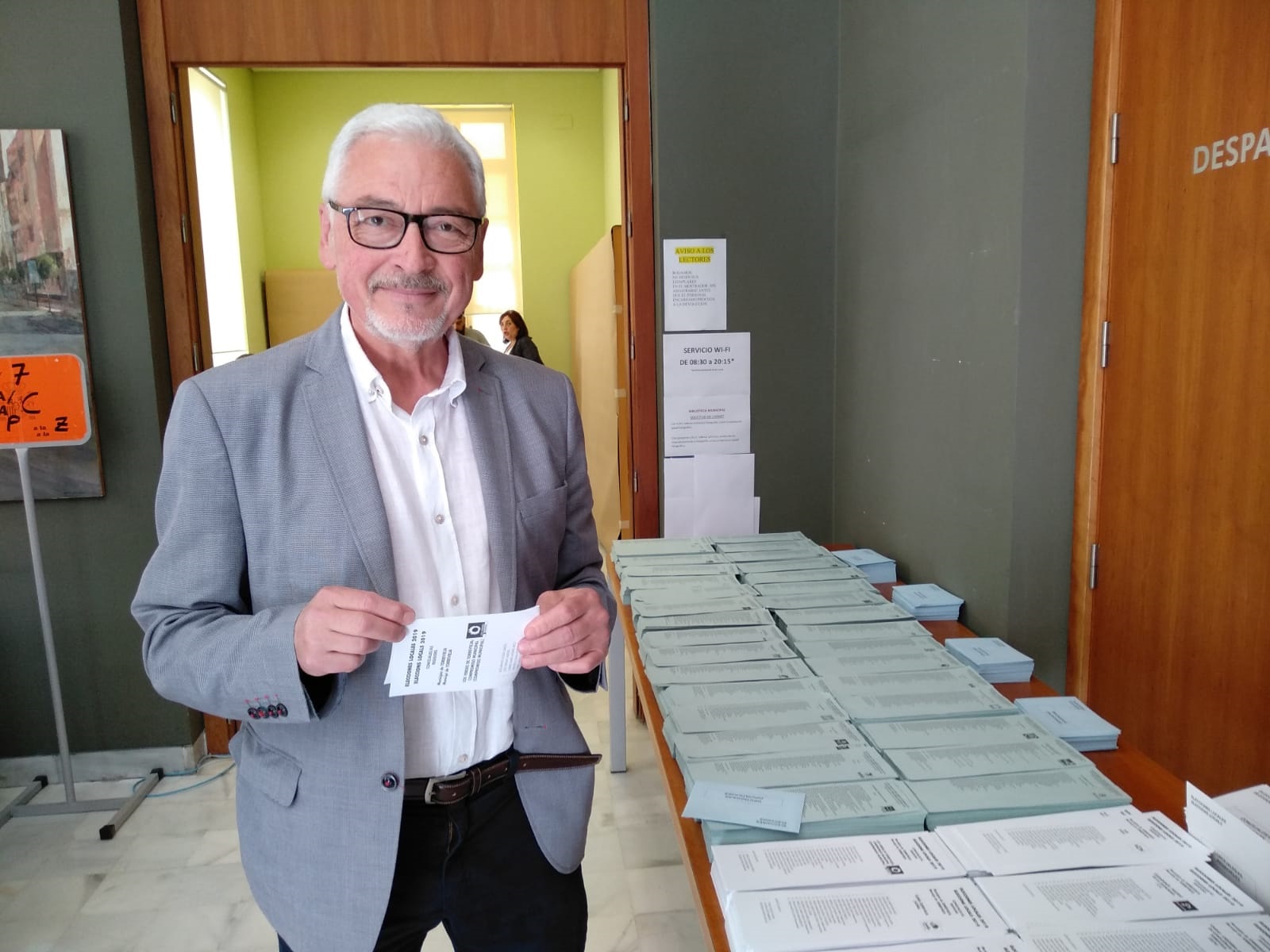 The measure of placing ballot papers on open tables and not in booths is based on a resolution of the Electoral Court, JEZ,  but the Torrevieja Council secretary argued that their decision does not meet the criteria laid down by the European Parliament in that a voter's secrecy must be guaranteed.
The same problem seems also to be widespread in other municipalities.
In previous years the ballot papers have been placed in curtained booths so that a voter can make his choice without the possibility of being overseen.
In their response JEZ has said that it is a problem that has been raised not only in Torrevieja, but also by many other municipalities and that the Central Electoral Board has subsequently sent an instruction insisting that observers and auditors must not be located near to those tables.
This newspaper has confirmed that many voters have complained at the polling stations because this arrangement does not guarantee the secrecy of the vote, with agents and controllers of all the parties aware of the votes being cast by voters.
In Torrevieja 44,000 voters are eligible to vote. The turnout in 2007, 2011 and 2015 just about topped 50% and the indications on Sunday afternoon wer that it is unlikely to be much better this year.