A shotgun start at 9 a.m. (do we love them or hate them?) saw 38 members and 4 guests, as well as 12 Eurogolf team members, arrive at a course that has become a permanent SMGS monthly fixture. Bathed in sunshine and with still conditions, it was hoped that all would be done and dusted by the time the expected 35Km winds turned up some time around early afternoon.
Witness statements conveyed what that level of wind could do as it had blown the day before in the Torrevieja/Punta Prima area, sending various objects skitting around urbanizations. We didn't quite make it.
Eurogolf members were present to take on a San Miguel team in a fixture that has been held annually in recent years between the two societies and which, until now, had been played at La Marquesa, standing at one win each. Today San Miguel dominated in a matchplay pairs competition 5-1, so going one up in the ongoing series. The next challenge is eagerly awaited.
In the SMGS members' competition, in which all SMGS members participated even if playing in the match against Eurogolf, scoring was pretty even across the board for all categories. Keith Wickham in Bronze recorded the day's best return with 35 points. David Bishop and Bjorn Pettersson won the Silver and Gold categories respectively, both recording 34 points and beating their nearest adversaries on countback. A Scottish run of taking the Abacus is evolving.
Last week Alan MacDonald's great friend Scotty Phillips took the prize. In his absence this week Alan thought he had better win it, and so did.
A final word on the course. Whilst the opening of the 7 new holes has been welcomed by many, and the experience improved recently by allowing buggies on to those holes' fairways if they enter at right angles, the scalping of those same fairways by mowers set at minimum height appears difficult to explain. Wood users coped, but trying to get an iron under the ball verged on the impossible.
Having seen the pros playing short irons and taking enormous divots at the recent Players and Valspar tournaments in the US of A, it made one wonder how they would cope on solid dry clay surfaces with no grass. Perhaps course professional Adrian Rudge, one of SMGS's sponsors, could explain to society members unable to find the answer how it is done. It seems we need a workshop!!
SMGS winning results, by category and in reverse order, were the following:
Bronze Category: 4th Brian Butler (31), 3rd Mike Inns (32), 2nd Haydn Williams (33) and 1st, with the day's best score, Keith Wickham with 35 points
Silver Category: 4th Steve Hart (30), 3rd Johan Lager (31), 2nd Kyrre Skarsmoen (34 on CB) and 1st David Bishop (34 on CB)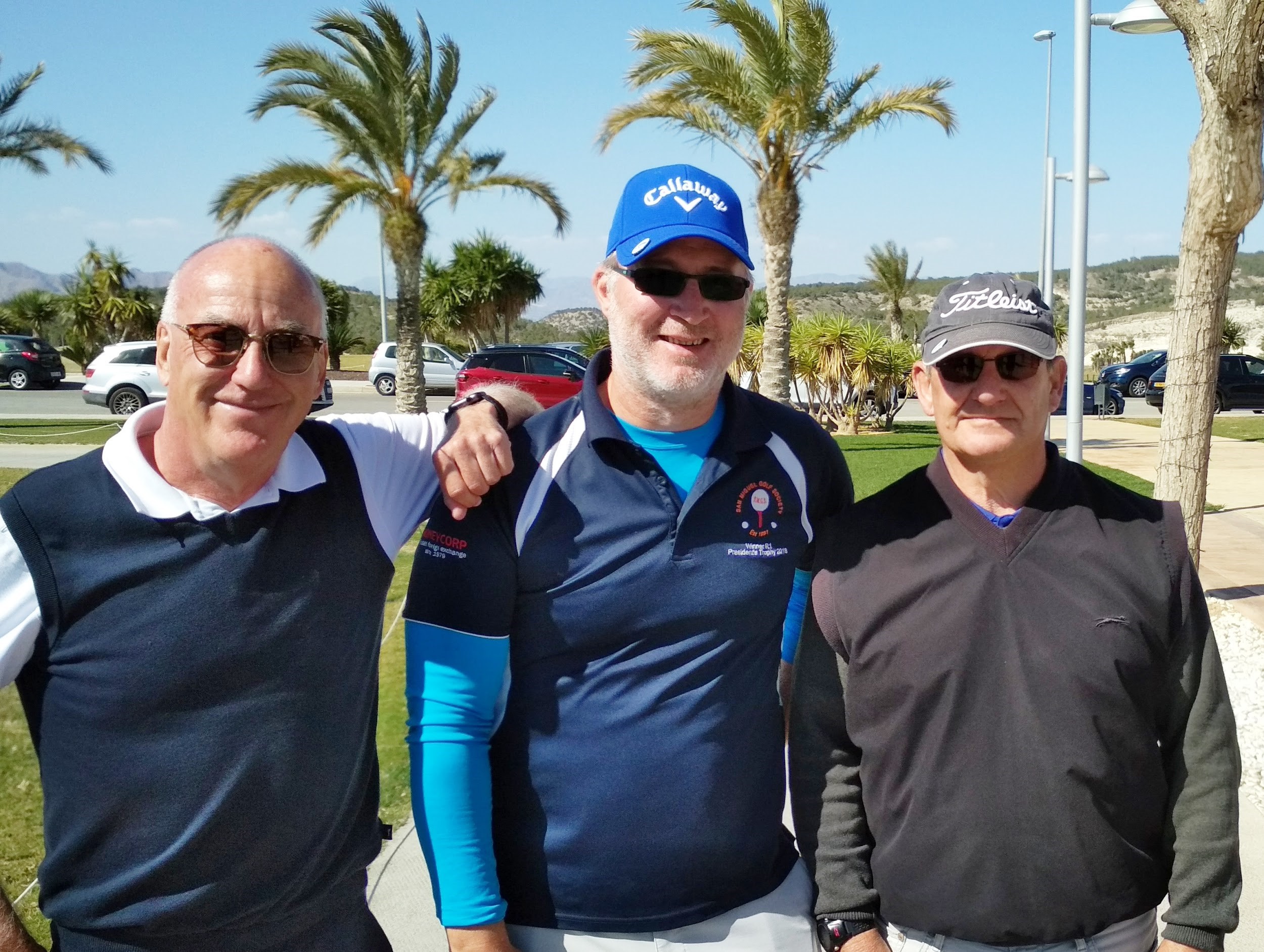 Gold Category: 4th Mike Greatorex (33 on CB), 3rd Phil de Lacy (33 on CB), 2nd Colin Rust (34 on CB) and 1st Bjorn Pettersson, also with 34 points
Nearest the pins on par 3's (Sponsored by Property Shop): Hole 2 Robin Eastman, Hole 7 Roger Carter, Hole 11 Johan Lager, Hole 15 Matt Newman
Nearest the pin in 2 on hole 17: Paddy Diskin
Longest Drive on hole 12: Mike Greatorex
Abacus (Sponsored by Mike IPTV Kaylor): Alan MacDonald
Best Guests: Ray Waite (32) beat Bertil Lingren (28) in to second place
Our thanks go to all Vistabella staff for their contribution to an enjoyable day. Next week we will be at Hacienda de Riquelme, the following week at La Serena. Keep up to date with all SMGS matters by logging on to our website www.smgs.org or simply give Captain Tony Smale a call on 628227687.