In the first week-end in February, Pedreguer will be celebrating its annual San Blas festival. It starts on the Friday evening the 1st of February, with the transfer of the Patron Saint to the chapel at the foot of the hill and continues till late Sunday afternoon. The programme includes processions, fireworks, a running competirion, concerts and dances and this year also an interesting craft fair.
The fair will be set up in the Plaza Mayor, next to the church and the old porches where the concerts and dances will be held. There is ample space for the thirty or so craft stalls, the demonstrations and workshops and the old fashioned merry-go-round.
Plenty of choice
Every three years there is a different group of people organizing these fiestas and the current comission "Festes Sant Blai 2017-2019" has decided to include an Amata fair in their programme. This regional craft associations makes sure that only real craftsmen and women participate and that everything on sale is made by the participants themselves.
As a result you can find original and curious items in the fair, like a whole chess game and other figures made of acorns, spoons out of cow horns, traditional baskets woven from esparto in the special way they use in Calasparra (Murcia), jewelry made of natural orchids or from glaas using a blowtorch (while you watch!) and small furnitutre of recycled wood.
You can watch a weaver make shawls and vests, and young and old can make their own bowl or vase on a potter´s wheel or engrave a glass with their initial. Some thirty stalls are expected, each one offering something different, all hand made and guaranteed "made in Spain".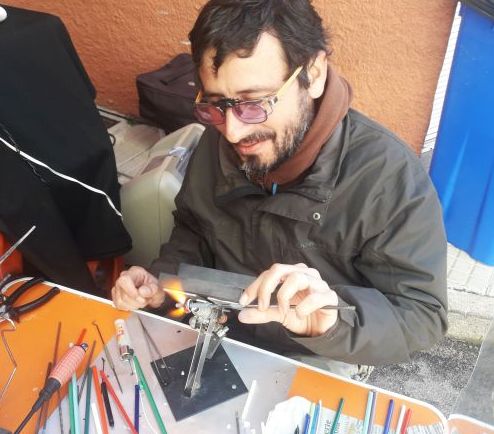 The fair opens on Friday evening at 7 pm. On Saturday and Sunday opening times are from 11 am till 9 pm. The stalls stay open at midday. To get an idea of what to expect you can look at photos on www.amata.es, for example at http://www.amata.es/San_Fulgencio_18.html.
For more information, also in English, you can ring 639 979 678. Pedreguer lies in the North of the province of Alicante on the N-332 coastal road. Every Sunday morning there is a big car boot sale on the industrial estate of the village.