Travelling along the motor way to Albacete or Madrid, you might have seen the castle that sits on top of a hill on your right just before getting to Albacete, and wondered whether it was worth a visit. Well, it is. And not just the castle – the Old Town of Chinchilla is full of beautifull old buildings, picturesque squares and nice corners.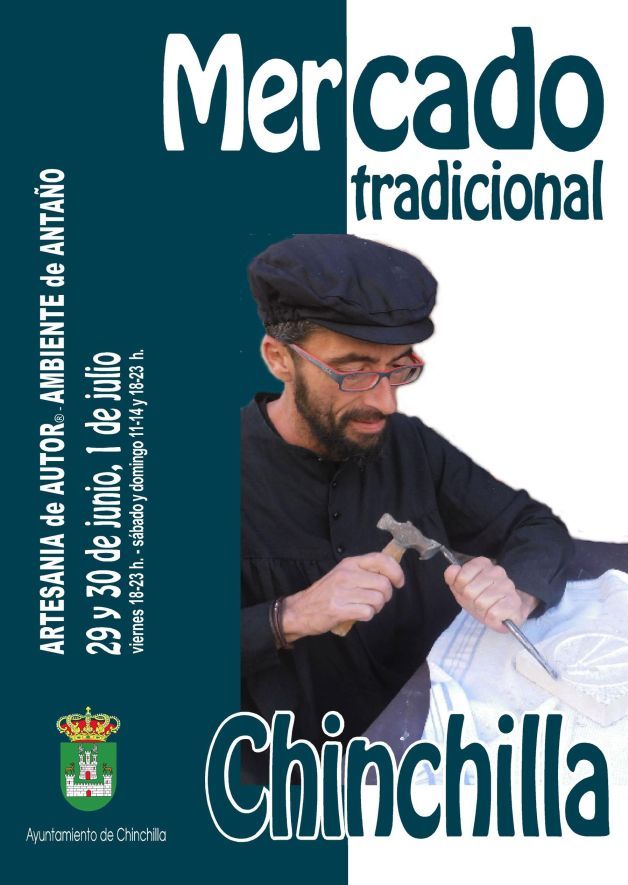 It is certainly interesting when something special is going on, such as a craft market in the style of the beginning of last century. Rather fun in fact, and just a little different from those endless Medieval Markets. Especially because Amata, the regional craft association, will be running it again.
Here is your chance: on 29 and 30 June and 1 July some thirty five craft stalls will be set up in the town centre and the people dress up in the clothes they would have worn 100 years ago. Not the toffs, not the upper crust or the top 1%, but ordinary men and women of that period trying to earn a crust. Stalls with the stuff they made themselves – nothing from abroad, nothing from the factory, just really lovingly made craft work, made by hand using natural materials.
Next to some of the stalls will be a table where the stall owner will be busily at work making the stuff he or she sells – you can watch them at work, ask questions or perhaps get them to personalize one of the pieces. Remember, this is a real craft fair, run by a real craft association..
Amata has been organizing craft fairs over the last 20 years and makes sure that everything on sale is hand made by the participants. They use the words Artesanía de Autor® as a guarantee that the author of the products is present. There are workshops for children, a potter will let you turn your own bowl or cup on his wheel and you can even make a sheet of recycled paper.
This year there will even be a photographer with an old fashioned plate camara: he will take photographs in which you will look like your grandparents when they were young. Some crazy musicians will liven up the fair together with a few jugglers and stiltwalkers, while you walk around or sit down and have a drink in the tavern or at the terrace of a local bar – there is even one that brews its own beer!
The Town Hall welcomes all visitors to spend some time in the village and has even created a special area for motor homes, free of charge. There are several B&B's, some of them with the extra attraction that the bedrooms are in caves! The market is set up in the centre of the town next to and behind the church and opens on Friday, the 29th of June, at 6pm; opening times on Saturday the 30st and Sunday the 1st of July are from 11am till 2pm and then again from 6pm till late.
Chinchilla de Montearagón lies next to the Motorway A31, some 10 miles before you come to Albacete. More information about the fair on 639 979 678 (in English) and photographs of last year's market you can find at http://www.amata.es/Chinchilla17.html . For more information about the village, accomodation or guided tours, you can phone the tourist office (oficina de turismo – 637 815 047) or write an e-mail to oficinadeturismo@ayuntamientochinchilla.com.