Sponsored by The Belfry, The Pub, Bowling Abroad and Avalon
Instead of the monthly Chicken Chase we held a Xmas Turkey Chase. It was well attended with everyone dressed in something referring to Xmas. After a very enjoyable mornings bowling played in lovely sunshine we all enjoyed a drink then Chris Harding presented the winners.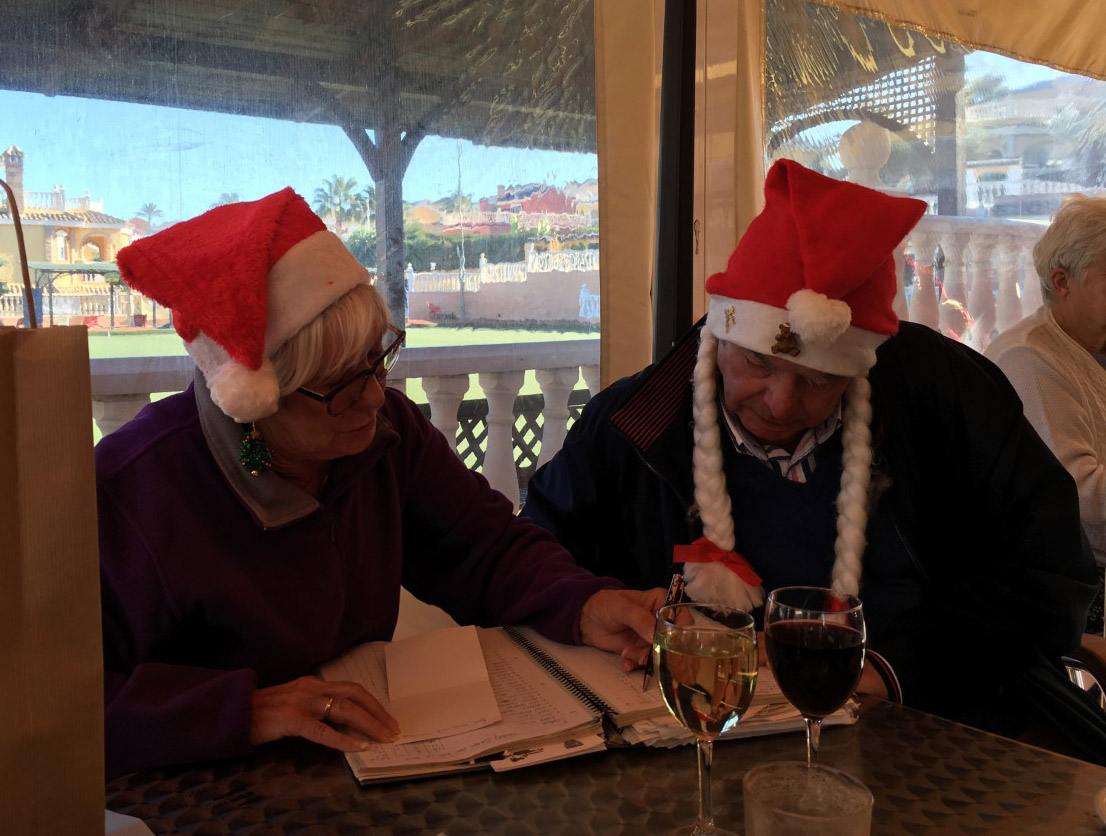 The turkeys were donated by Jan and Mick Soars, eggs by Joan and Chris Harding and wine by Alan Wilkinson. With the money raised we have purchased new mats and rink numbers
Monday January 8th – Monte Mar Toreadors v Quesada Diamonds
The Toreadors first match after the Xmas break was played on a very chilly morning. Only winning on one rink, well done to Sue Bounds, Joe Ridley and skip Dianne Ridley.
Shots Toreadors 75 – 130 Diamonds, Points Toreadors 2 – 12 Diamonds
Monte Mar Matadors v Quesada Pearls – First match after the Xmas break the Matadors won on two rinks. Well done to the two winning rinks.
Shots Matadors 83 – Pearls 101, Points Matadors 4 – 10 Pearls
Wednesday January 10th – Winter League Monte Mar v Bonalba
We played our first game after the Xmas break at home to our friends from Bonalba. Winning on three rinks well done to Sheila Roberts, John Hunt, Mick Soars and skip Bill Young. Ronnie Cairns, Mike Farrelly, June Young and skip Dave melville. Jan Soars, Bill Judd, Val Hignett and skip Rod Chamerline. After the match we enjoyed a lovely meal at the belfry.
Shots Monte Mar 83 – 71 Bonalba, Points Monte Mar 8 – 4 Bonalba
For further information about Monte Mar Bowls and Social Club check out our website www.montemarbowls.com or email us at info@montemarbowls.com. We are also on Facebook.