When an amalgamation of talent and professionalism arrive on stage together, it is a sign to sit back and be royally entertained, and that's exactly what happened, for some two hours, this warm Saturday, at the Orihuela Costa Resort.
Melody Makers International, under the baton of conductor / director and arranger Nigel Hopkins, bought the magic of the sound of the musicals, to "Full houses" this day. The accomplished band, members of which had flown out from the United Kingdom especially for the concert, did not disappoint.
A "My Fair Lady" medley started the concert off in fine form, with a solo by Verity Hall, and Bill Nicholson. Bill sounding more like Rex Harrison, as Professor Higgins, than Rex himself! Melody Makers then reminded the audience to delights of "West Side Story", an arrangement by Nigel Hopkins, and again, a delightful solo by Verity Hall.
Brought to the stage by Leonard Bernstein in 1959, the concept came from William Shakespeare's, Romeo and Juliet. The haunting song "The Impossible Dream" from the show "Man of La Mancha", arranged again by Nigel, for Melody Makers, featured the wonderful voice of Graham Cooke.
We were to be treated to Graham's voice again, a little later in the concert, where we would find him resting in the shadow of The Cotton Blossom, moored on The Mississippi River. A medley from "Singing In The Rain" followed, and the classic "Losing My Mind", from 1971 production of "Follies" performed delightfully by Rebecca Holt.
Before the interval, the Cornish coast beckoned, where we joined soloists Alyson Horsfall, Verity Hall, Police Constable (Mind how you go) Bill Nicholson and Melody Makers, on the quay in Penzance, for Gilbert & Sullivan's 1879 tale of "Pirates", with a rendition of "When The Foreman Bares His Steel". Good stuff!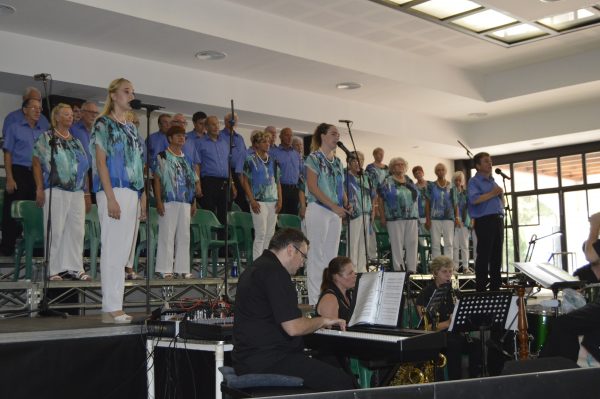 A medley from Lionel Bart's "Oliver" introduced part two of the concert, followed by Alyson Horsfall and Philip Mitchell with the enduring "When The Children Are Asleep" from Rogers & Hammerstein's 1945 production of "Carousel". Songs from "Miss Saigon", "Beauty & The Beast" and "Phantom of the Opera" followed, being treated to a solo by Verity, of "Think Of Me".
Again from "My Fair Lady" we visited the races at Ascot, for "The Gavotte". Eric Berg then donned his racing colours to bring us "I've Gotter Motter" from "The Arcadians" when it was soon time to tie alongside "The Cotton Blossom" to hear Graham Cooke, tell the story of "Old Man River".
To bring this concert to a close, it was a medley of songs from Schonberg & Boublil's remarkable "Les Miserables", with soloists Verity Hall, Rebecca Holt and Bill Nicholson. Nigel mentioned that he was looking, quietly, at the moment, to bringing a production of "Les Miserables", to a local stage, perhaps next year. Now that would be most splendid!
Orihuela Costa Community Care were the charity being supported, with a bucket collection taking place, as a very happy audience made it's way home, following, yet again, an excellent concert by Melody Makers International and Nigel Hopkins.
Robert W Barnes.