Elche CF 1 – 0 Girona FC……. By Kevin Rendall
Rober Correo, deemed surplus to requirements at Espanyol last summer, hasn't enjoyed a particularly auspicious loan period at Elche to date. Mediocre performances culminating in seven yellow cards and a red have seen the Ilicitano jury very much hung. Everything changed on Friday night, though, when the Extremeño was on hand, late in the game, to chip in with a priceless contribution to what, in all likelihood, will be Elche's best win of the season.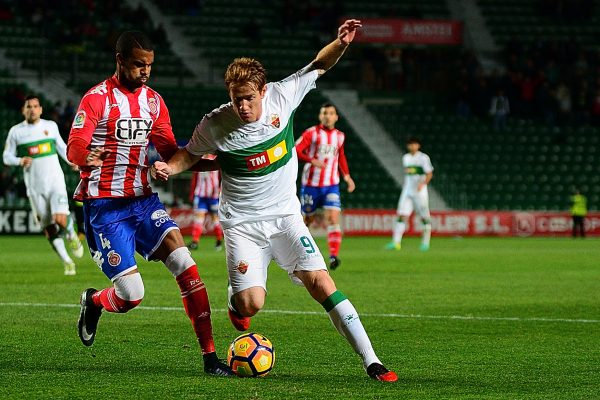 A dismal crowd of 5,766 braved the cold for the less than favourable 8pm kick-off time and were made to wait until almost the very end for something to enjoy. Girona, a strong second place in the Segunda A classification and rightly so, were odds-on favourites to help themselves to three points from an inconsistent Elche presently enduring a patchy run of form. The bookmakers logic was sound, this was a contest between the division's top scorers and one of the worst defences. You feared for Elche's safety.
Not so, as things turned out. Elche quickly found Girona well organised and difficult to break down. Chances for either side were few and far between and for the most part the opening forty five minutes, whilst watchable, produced very little by way of clear cut chances. Much of the action occurred in the middle third of the pitch and although visitor René Román was the busier of the two goalkeepers, he still found time to ask a ball-boy behind the net he was tending for a ball to bounce around. Half-time 0-0
It's almost as though Elche, having spent the opening half probing Girona for weaknesses, then decided to execute their game plan. They were altogether more efficient after the restart. Playing an unaccustomed 3-5-2 to nullify the considerable Catalan goal threat with three centre-backs – Alberto Toril, or his scouts, had clearly done their homework – Elche were dealt a blow just before the break with the loss of right wing-back Pedro. His replacement, first choice right-back Correa, slotted in just fine, he even looked the part playing slightly further forward.
A couple of times during a much better second-half Elche had the sparse crowd on their frozen feet with crisp passing movements that, while quite exciting to watch, came to nothing. Not many teams have put a very good Girona side under this much pressure but Elche just didn't have the nous to take advantage of all their possession. This being Elche, regular watchers will have been aware that settling for a point close to the end almost invariably means a dropped guard followed quickly by all three points. Step forward Rober Correa.
This had the look of goal-less draw from about fifteen minutes out but Elche kept plugging away, probably more in hope than expectation. Three minutes before the end, lively left sided midfielder Fabián, his head bandaged from an earlier accidental collision – the third similar incident of the game – slung a hopeful cross into the Girona penalty area. Two Girona defenders and their goalkeeper rose simultaneously. You'd have thought one of the trio would have averted the danger. Nope ! Correa also leapt and was the only one of the four to actually make contact with the ball. Quite how much he knew about it was moot, his touch – the ball seemed to come off his face – was enough to win it for the home side.
The way this Elche side are capable of playing there is every chance, between now and season's end, of an opponent being on the wrong end of a hiding. It was never going to be Girona but in the end it didn't need to be. The bare minimum was adequate. Elche now sit eleventh of twenty two with a zero goal difference. They've had that kind of season.