The Voice UK semi-finalist Lucy Calcines is eyeing stardom after being under the wing of Will.i.am the Black Eyed Peas American rapper, singer, songwriter, and recording artist.
"Being on Team Will is amazing," said Lucy, speaking exclusively to The Leader.
Lucy took time out of her whirlwind schedule in the wake of the coronavirus lockdown, that has seen The Voice UK semi-finals and final temporary postponed.
Lucy, who auditioned in front of Will.i.am, Sir Tom Jones, Olly Murs, and Meghan Trainor, said: "I am so happy that I picked Will, because he is such a creative individual.
"Will has helped me with my vision, as an artist, so I'm really grateful for that."
Lucy, 18, raised in the Canary Islands, where her parents reside, said: "They are the biggest influence in my career. They're both musicians – I've grown up watching them.
"Stylistically I would say I am drawn to pop music, so I am very inspired by artistes, such as Ariana Grande, Charlie Puth, or Justin Bieber.
"However, I also find inspiration in Latin music – because of my culture – and I look up to artists such as J Balvin or Anitta."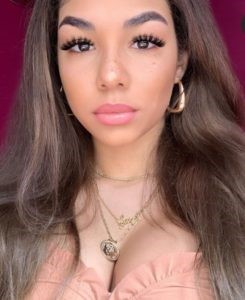 "Will has helped me with my vision, as an artist, so I'm really grateful for that."
In terms of guidance, there are few better artists to learn from than the Black Eyed Peas' Will.i.am. The 45-year-old is more than a mere musician, having also established himself as has a world-renowned entrepreneur.
Following his rise to prominence with the 90s music group, the Los Angeles-born songwriter sought to use his platform to branch away from being a one-dimensional musician. As such, during his career, he's produced records for global superstars, including Britney Spears, Justin Bieber, Rihanna, and many more.
Away from music, Will.i.am has long been involved in the fashion sector. After the launch of his Bluetooth headphones, the I.am+ BUTTONs, in the mid-2010s, the well-known philanthropist unveiled an exclusive eyewear collection in May 2018.
The collection features numerous 80s-inspired trends, which are evident across the Will.i.am W04V, W14V, W09V, and others. The 45-year-old's range includes styles that have long been popular within the glasses market, such as the implementation of round and square shapes.
Fundamentally, the modern-day attraction of such well-received designs is reflected at retail sites like GlassesUSA. For example, on the eye glasses platform, prospective customers can browse through their array of frames and filter their searches via color, material shape, and much more. Spectacles like the Muse Gilford, for example, embrace a rectangular shape that is reminiscent of some creations in Will.i.am's collection.
Lucy, who has met celebrities, including Charlie Puth, Little Mix, and Joe Jonas, among others, said: "I would really like to meet some of the artists I look up to – like Ariana Grande or J Balvin."
Lucy, whose parents are from Havana, Cuba, said: "I have been singing since I've been conscious.
"I never really had a different dream. I guess growing up in a musical environment pushed me to pursue a career in the music industry.
"Cuba is a beautiful country – full of culture and music.
"I love being Cuban and I wouldn't change it for the world. I love my culture and my people." *Photographs: courtesy Lucy Calcines.
*IN Part 2 of Lucy Calcines exclusive interview she speaks about University Graduation, recording, producing and filming; behind the scenes of The Voice UK – and future ambitions.