An earthquake of a magnitude of 3.8 was registered on Saturday evening at 10pm to the east of Puerto Lumbreras. The quake caused especial alarm in the municipality of Lorca, where, remembering the devastating seismic activity in the town 8 years ago, the city council is understood to have set up its Emergency Reporting Centre, with at least one house suffering material damage.
The National Geographic Institute initially located the epicenter of the earthquake north of the neighboring town of Águilas, but later modified the coordinates and placed it in the Lumbrerense area, with a hypocenter that was 5 kilometers deep.
The tremor was felt in the three locations as well as in Mazarrón, Cartagena, Pulpí and Huércal-Overa (Almería) although there are no reports of personal injury.
The mayor of Lorca, Diego José Mateos, visited the scene on C/Baeza in the town, where firefighters and the emergency services were dealing with a large crack that opened up in the street as a result of the earthquake. Mateos has sent a "message of calm" to the residents of Lorca, many of who experience the movement of land causing people to leave their homes.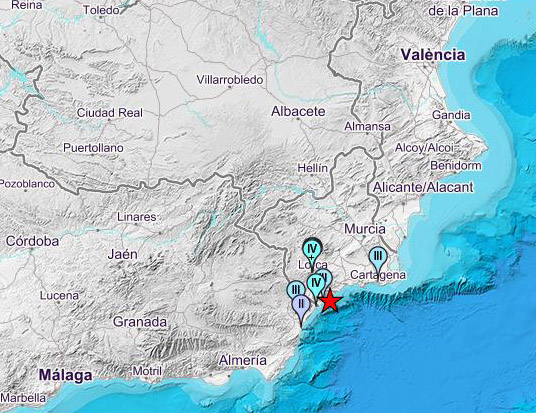 He said that 20 calls had been received by the emergency services although none reported serious damage or injuries.
The city of Lorca was devastated by an earthquake of 5.1 magnitude on May 11, 2011 causing nine deaths, 324 injuries, damage of more than 1,200 million euros and the subsequent demolition of more than a thousand homes.