32 members and guests from Alfie's GS travelled to Roda GC for the Geoff Thomson Trophy on 26th July. Geoff was a former member of Alfies GS and went to Australia and left his clubs behind and we decided to sell them and the proceeds went to pay for one of our trophies which we play every year for.
The turnout was great despite the very warm temperature as we had 23 members and 9 guests who are always welcome to play golf with us. It turned out to be a family affair as the prizes were won by father and son parings Steve and Alan McAuliffe and Brothers Ian and Alan Connell.
This is the second outing in a row that Ian has won our gold competition and we will have to take a look at the president's current handicap. The course tee to green was good but some of the greens were a bit patchy, but all players enjoyed the day. The presentation was held back at Alfies's bar where a buffet was enjoyed by all the players provided by Rose and Jim at Alfies Bar.
Our winner of the day in the silver division was Alan Connell with a great score of 39 stableford points
Second place went to Jim Dempsey with a score of 32 stableford points. Again this is the second time Jim has come second in the silver division must be all that Guinness he is drinking.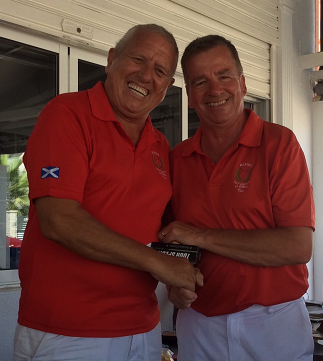 The Winner of the gold division was Ian Connell our society president with a fantastic score of 37 stableford points. Second place went to Steve Bicks with 35 points and is one of the societies valued sponsors.
Due to our high number of guests playing we had 2 prizes for our valued guest players kindly donated by our Captain Ian Ingledew. The winner of the Best Guest went to Martin Armstrong with 37 stableford points and second place was Glyn Halton with a score of 34 stableford points.
Nearest the pin on the 7th– Sponsored by 'The Street Restaurant' went to Alan Connell
Nearest the pin on the 13th– sponsored by 'The Auld Dubliner' went to Steve McAuliffe
Nearest the pin in 2 shots on the 15th – sponsored by 'The Celtic Drop' went to Alan McAuliffe
Nearest the pin in 3 shots on the 18th – sponsored by 'Alfies Bar' went to Steve Bicks
The Blind pairs was won by Tom Hestead and Brian Young
After the prize giving we held an auction to raise money for our nominated charity this year which is Prostate Cancer UK. An auction item kindly donated by Gary Armstrong and Romero Golf Club which was a tee time for 2 players including a buggy and I am delighted to say it fetched more than its face value of 120 Euros. Our Captain Ian Ingledew was very happy and thanked the auction winners Tony Hall & Alan Connell for their kind donation to the cause.
Many thanks to our sponsors, our committee for their hard work in the background, and to Mike Probert from Costa Blanca Green Fee Services for arranging our day.
To Rose and Jim and staff at Alfies Bar for their continued support throughout the year.
Big Thank you to Sandie Hall for organising the charity raffle and prizes.
And finally thanks to all the members and guests for supporting Alfies Golf Society. Our next outing is Las Colinas on July 26th 2018, and we be playing for The Geoff Thompson Trophy, so get your names down early as this is always a popular venue.