Weather conditions that one normally associates with links golf on the Baltic greeted the 43 members and one guest at Vistabella. Woolly hats were on show, a rare sight in these parts. However, the day brightened and the cold breeze abated enough to see jackets and jumpers being removed.
Greens, as ever, were slick and well prepared. Buggies not being allowed on the front nine fairways slowed up proceedings somewhat but it was evident that that the new layout needs protection. Tricky pin positions added to the difficulty of building a good score. Given the circumstances, the points amassed by prize-winners were praiseworthy.
The day's results, by category and in reverse order, were the following:
Bronze Category: 4th Keith Stevenson (37 on CB), 3rd John Trehy (37), 2nd Charlie Harkin (38) and 1st Norman McBride (40)
Silver Category: 4th Ken Flaherty (33), 3rd Kevin Albright (34), 2nd Phil De Lacy (36), and 1st Hugh Reilly (37)
Gold Category: 4th Mike Frankish (34), 3rd Tony Smale (35), 2nd Bjorn Petersson (36), and 1st Humphrey Kelleher (38)
Nearest the pins on the par 3's to Kyree Skarsmoen, Mike Freeman, Chris Hamlett and Norman Cahill.
Mike Inns won the Abacus…again. This week, the Abacus was once more sponsored by Adrian Rudge, golf professional at Vistabella. The wonderful prize of a free golf lesson voucher will hopefully mean that Mike's monopoly of the Abacus will end soon.
In the matchplay competition, Hugh Reilly and Brian Mulligan won 4 and 2 against Norman Cahill and Mike Jordan.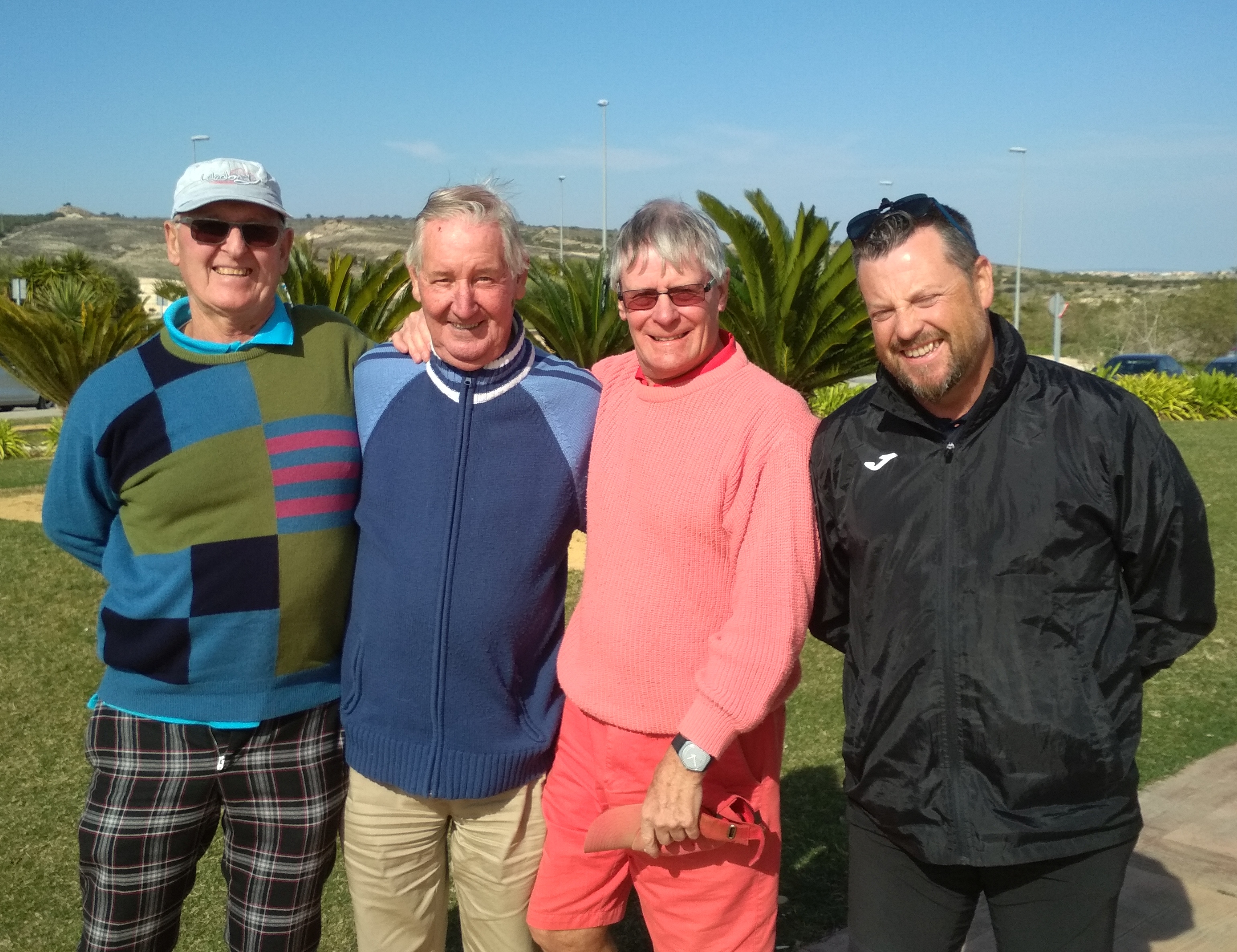 Our thanks to the staff at Vistabella for their contribution to the day. Bar service was excellent and the reasonably priced drinks were greatly appreciated by all.
Keep up to date with all SMGS matters by logging on to our website www.smgs.org or simply give Tony Smale a call on 628227687 to find out more about the society and its weekly golf get-togethers. Next week we will be at Roda.