The mayor of Orihuela, Emilio Bascuñana, and the Councillor for Tourism, Sofía Álvarez, presented the new council publication 'Orihuela, a city surrounded by gardens' at Spain's annual tourism fair, FITUR, which is currently being held in Madrid. They were accompanied by the Valencian Tourism Deputy, former Torrevieja mayor, Eduardo Dolón.
The book highlights "the importance of the traditional vegetable garden that is part of Orihuela's history," and it is the tool that will make the area "a tourist landmark that can attract visitors from all over the world, to enjoy our culture, our wonderful beaches and our gastronomy," Álvarez said.
Bascuñana added that he was delighted "to have the opportunity to present this very special publication at the most important tourism fair in our country."
Dolón congratulated the pair on the initiatives presented by the city at Fitur and highlighted the potential of Orihiuela "as the cultural capital of the Province of Alicante."
The mayor was also delighted to confirm his commitment to major sporting events by announcing the city's participation as a stage in La Vuelta 2017, the Tour of Spain.
The cyclists will arrive in Orihuela on Saturday 26 August, coming from Albacete. A day later, on Sunday 27 August, cyclists will start stage 9 from 'Orihuela riding the 176 km stage to Cumbre del Sol (El Poble Nou de Benitatxell), said to be one of the hardest and most intense stages of the race.
The riders will travel through Torrevieja, Guardamar del Segura, Santa Pola, El Altet (Elche), Alicante, Sant Joan d'Alacant, El Campello, La Vila Joiosa, Benidorm, Altea, Calp, Teulada-Moraira, El Poble Nou de Benitatxell, Gata Gorgos and Xàbia running parallel with the Mediterranean coast where possible.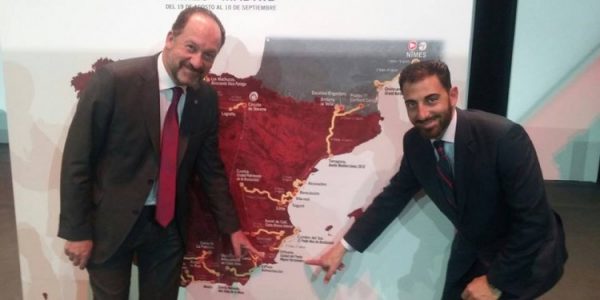 "The two stages that took place in the area last summer generated more than 600,000 euros in accommodation, Hospitality, catering, leisure and shopping," said Dolón, in addition to which there will be "international media coverage of the event, which is broadcast in more than 190 countries around the world."