Firefighters and forest brigades have managed to stabilise many of the forest fires that threatened several towns in the Marina Alta and Baixa on Wednesday night, although almost 5 hectares of forest is said to have been destroyed in the area between El Castell de Guadalest and Beniardà.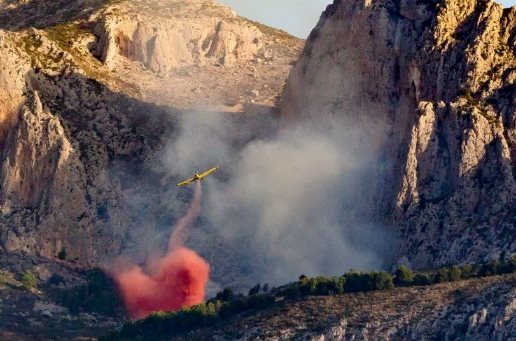 Now under control, at one point, three brigades from the Benidorm park and one from Benissa, as well as seven forest brigades with six fire engines from Benitatxell, Relleu, Xixona, Parcent, Torremanzanas, Tibi and Benissa were tackling the blaze. They were joined by two aircraft and a helicopter, all of which concentrated their efforts in the difficult to access municipality of Beniardà.
All of the outbreaks were in very steep areas where access on foot was far more difficult.
The initial fire was first reported in Beniardà, a small municipality very close to Guadalest. The mayor said that there were two outbreaks in the upper part of the mountain and far from populated areas in the Serrella and l'Aixortà mountain ranges.
The origin of the fire is unknown, although the fact that they occurred a distance of 3 kilometres apart suggests that they may have been caused intentionally.