Exactly 7 years to the day since the devastating 5.1 magnitude earthquake in Lorca many people on the southern Costa Blanca said that "the Earth most definitely moved for them" when the latest tremor hit the area at 19.26 local time on Friday evening.
Measuring 3.4 magnitude, the epicentre of which was 10km off the coast of Pilar de la Horadada, lots of people took to Twitter in the minutes following the quake with some reporting their homes and apartment blocks shaking for about 4-5 seconds.
The earthquake was felt in municipalities as widespread as Torrevieja, Orihuela Costa, Rafal, Bigastro, Almoradi, Dolores, Callosa de Segura, Guardamar and Jacarilla, even in Elche, Alicante and Novelda, according to many Leader readers.
In Torrevieja hundreds of residents ran into the street until the alert has passed while many stores, supermarkets and other establishments actually evacuated their buildings.
Hundreds of residents took to social networks immediately after the quake telling how ornaments had moved and furniture and windows had vibrated. Others identified the earthquake more because of the noise caused by the seismic activity, especially in Pilar de la Horadada, the epicentre, and Orihuela Costa.
Mary Eagle from Blackburn in Lancs, told the Leader: "I was in that only really half-awake state fumbling round the house and watching television and I thought for a moment that a big tank had driven past the front gate.
"Then I realised that was unlikely, it was only after a few minutes I realised it might be an earthquake. It was a rumble and a vibration rather than a physical wobble."
People who witnessed the quake at the Queen Victoria pub in Cabo Roig were in no doubt as to the cause of the shake. "The side of the building actually trembled" said one customer. "It was certainly one of the most scary few seconds I have witnessed in recent years although thankfully I didn't lose any beer."
One resident of Entrenaranjos contacted a site that records local earthquakes writing "Experienced our first earthquake. There was quite a large rumble which sounded like an explosion or a large vehicle hitting a building. The house shook and then a strange quietness followed by a smaller aftershock."
Another resident of Torre de la Horadada wrote "Sitting watching the News when there was a sudden loud rumbling and the whole house shook. Shaking was of short duration, maybe 2 to 3 secs. I was in Turkey in Izmit, near Istanbul, just prior to the last big earthquake there, and this was similar to some of the pre-shocks that we experienced."
David from Orihuela 32 km NW from epicentre, was another conrtributor to the site writing "The neighbours all came out. It was the worst earthquake we had experienced here in Spain. It was so loud and it felt like it was directly underneath the house. It was frightening."
According to a spokesman from the National Geographic Institute (IGN) "Many of these slight tremors occur in the area every year. This particular one lasted several seconds and was more "noisy" than dangerous."
The emergency services said that they received several calls from concerned residents but there are no reports of damage or injury.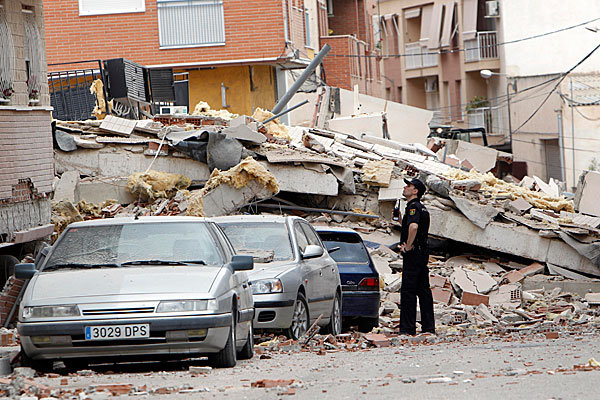 PREVIOUS EARTHQUAKES IN THE REGION
March 21, 1829: Almost 400 dead in Torrevieja and surrounds. 6.6 magnitude
October 14, 2010: 1.8 magnitude San Miguel epicenter barely noticeable
March 23, 2011: A small tremor in Torrevieja
January 12, 2012: A 1.7 magnitude earthquake, Torrevieja, Pilar de la Horadada and Orihuela Costa
February 5, 2012: 3.0 magnitude shakes Torrevieja and the Vega Baja
June 18, 2012: La Vega records a number of minor tremors
November 14, 2012: Very slight tremor in Torrevieja
June 13, 2013: Two earthquakes in less than 10 hours in the Vega Baja are felt in the Baix Vinalopó
July 2, 2013: A low intensity earthquake in the sea off torrevieja
June 11, 2014: Minor earthquake in Torrevieja
June 26, 2014: An earthquake of magnitude 2.0 is felt in Pilar de la Horadada, Orihuela Costa and Torrevieja
October 27, 2014: Minor earthquake in Torrevieja
November 21, 2014: Light earthquake off Torrevieja and Orihuela
January 2, 2015: Torrevieja records an earthquake of 1.6 magnitude
April 27, 2016: Mild earthquake in Torrevieja
August 22, 2016: A 2.4- magnitude earthquake shakes Torrevieja
March 10, 2016: A magnitude 3 earthquake alerts residents of Torrevieja
May 30, 2017: An earthquake of magnitude 2.4wakes up the Vega Baja
November 7, 2017 : 2.3 magnitude south of Torrevieja