COEUR D'ALENE RESORT COURSE, Idaho, claims the world's only floating green, the 14th, which gets pulled in or pushed out each day. Golfers are ferried out and back in a gleaming mahogany and brass motor boat.
A massage therapist awaits on the driving range to help them warm-up before they blast floating range balls at floating flags on the lake, afterwards gliding off with their caddies in de-luxe buggies complete with refreshments and heated seats. The course itself, a 6,803 yd par 71, is festooned with thousands of geraniums and carpeted in perfect bent grass. After the round and a 15-setting shower in their suite, the five star restaurant awaits them. Very nice. How much? If you have to ask, etc.,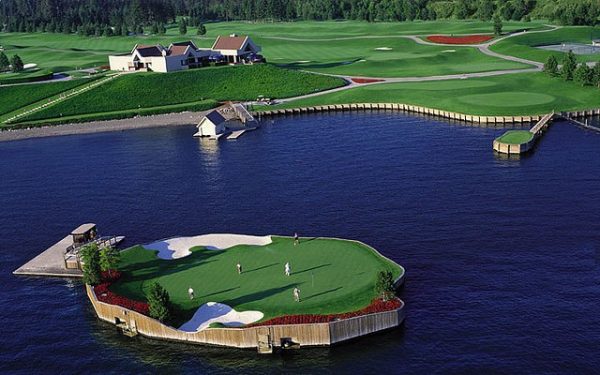 EVEN TOP GOLFERS don't want to play golf all the time. Luke Donald majored in art at University and is a whiz with a paintbrush. Tiger Woods is into spear fishing and scuba diving, Nick Faldo loves a spot of fly fishing and Adam Scott heads for the beach when Surfs Up. Graeme McDowell has founded a brewery together with Keegan Bradley and Freddie Jacobson. Calling it the Golfbeer Brewing Co, they have each created a craft beer; McDowell's is called 'Celtic Pale Ale.' Sound idea. If you want a hobby a brewery beats stamp collecting every time.
THE OLDEST WINNER of the Open Championship in modern times was Argentinian Roberto de Vicenzo, who captured the title at Hoylake in 1967 aged 44. Padraig Harrington (45) is hoping to beat that record at Royal Birkdale next month. In 2008 on the same course he successfully defended the Open title he had won the previous year at Carnoustie, when he beat Sergio Garcia in a playoff.
Wind and rain had buffeted Royal Birkdale all week, and on the Saturday 50-mph gusts had spectators and players alike struggling to stand upright. The Dubliner sealed the title with an eagle. Hitting a five-wood 273 yds on the par-five 17th, the downhill lie gave a low trajectory which would cheat the wind, and his perfect contact left the ball three feet above the pin.
Oddly enough, Padraig nearly didn't play in the 2008 Open after injuring his wrist hitting a beanbag the week before, and his participation this year was in doubt after an amateur (one of Sergio's relations?) clouted him on the elbow with a driver. Coincidence? He could be worth an outside bet.
TWO-TIME MAJOR champion Greg Norman took a shot at golf commentators recently, remarking: "The commentators on TV are boring. The monotonous voices saying everyone's hit a great shot and everyone's got the greatest short game in the world. I turned the sound off with The Masters and just watched." Could it be that Greg wasn't offered the job.
Poor Sir Nick Faldo tweeted: "I think I need a hug."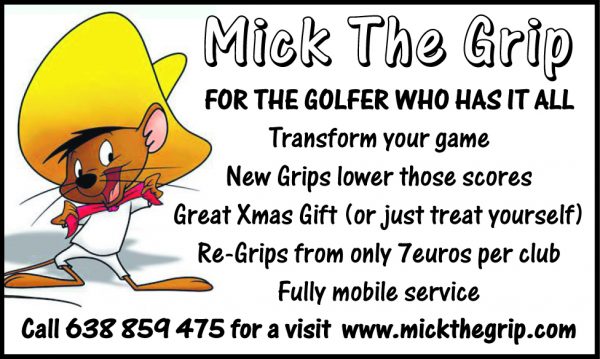 PHIL MICKELSON – "Whether its players, caddies, the media – we all want to build up the game and nobody built it up more than Tiger did. When I won the Tucson Open in the 90's the entire purse was $1 million, first place $180,000. I remember thinking: 'I wonder if someday we'll play for a $1 million first place, probably not in my lifetime.' Now every week there's a million-plus first place cheque. That's due to Tiger."
Mickelson has made over $80 million just on the course in his career, which is a lot of first places. Even his caddie (or ex-caddie) Bones is a millionaire.
THREE WEEKS OF TOP CLASS links golf kicks off on 9th July with the Irish Open at Portstewart, followed by the Scottish Open at Dundonald and The Open at Royal Birkdale. Portstewart has a spectacular front nine and is called a hidden gem (not another one!) The welcome leaflet tells spectators that "There is a short walk of about 300m to the Hospitality Tent, if you find it difficult to walk and are in need of assistance let us know." The spectators might be able to walk there, but knowing Irish hospitality they may well need assistance walking back.
Until next time: Happy Golfing.
Contact Mick for regripping and repairs. 638 859 475.