Each year HELP Vega Baja presents a gold and silver collection tin award to the bar or business that collects the largest donation in the charity's red boxes.
This year, Lynn Stimpson, co-ordinator of red box distribution and husband Chris went along to Bar UK in Torre de la Horradada to thank owner Karen Dixon and present her with a "gold award" for the remarkable support the charity had received from the bar throughout the previous 12 months.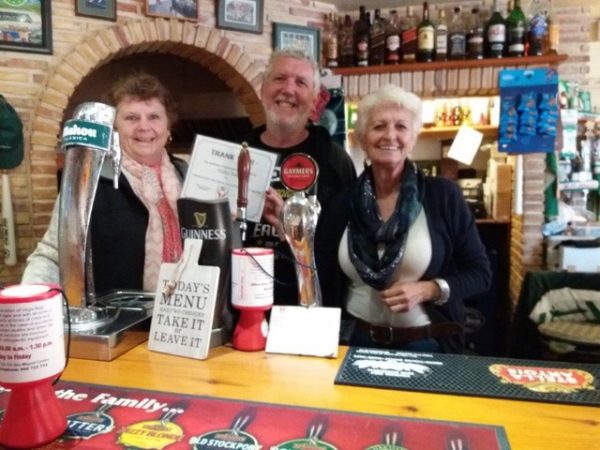 Bar UK and their customers have been supporting the charity for many years and happily contribute to the "red box" on the bar! In addition, Karen is also involved in the very popular sponsored "Bike for Life" that is held in the town each spring and has raised a great deal of money for local charities including HELP Vega Baja.
Lynn and Chris continued their day by next visiting Tog and Norma at Hoops Bar in Guardamar to present them with a silver collection tin award. Hoops bar is filled to the rafters with memorabilia of Celtic Football club but there is always space left for the HELP red box and customers fill it very quickly ensuring that Lynn and Chris are becoming regular visitors!
Michele Masson, President of HELP said "with the support of her team, Lynn organises for the boxes, which are currently in 63 locations around the Vega Baja area, to be distributed and collected. During 2016, 2,263 euros was raised thanks to the generosity of the bars, businesses and of course their customers who year after year support our charity. These donations are extremely important to us and the money raised goes towards helping people who need our support.
We sincerely thank everyone who supports us by having one of our boxes on their premises. We would like to also extend our appreciation to Quesada Fish and Chips in Quesada who contributed 73 euros from their tip jar to the charity in July.
After many years, sadly Stewart Simmons and Pam Mudd retired from the team and we thank them for their support and wish them both well for the future. Arthur and Ken (fondly known as "Arfer and Marfer" by our volunteers) joined the team and are covering the Quesada area. We would love to hear from anyone else who would like to join so that we can cover other areas too".
For more information about HELP Vega Baja or volunteering with the charity, please contact the San Miguel Centre on 966 723 733 or email office@helpvegabaja.com A message can also be left on the charity Facebook page.