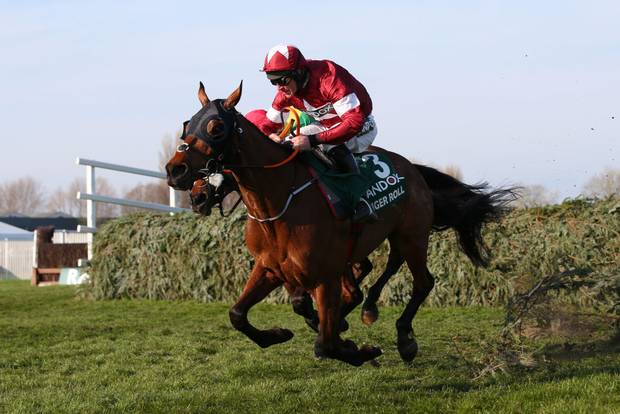 AINTREE Grand National 2019 winner Tiger Roll cannot expect any 'favours' in a bid to gain a third consecutive victory at the Merseyside track.
"You can't blackmail a system to get him running," said Martin Greenwood, British racing's top jumps handicapper.
Tiger Roll's trainer Gordon Elliott is awaiting the announcement for the weights set for the 2020 Aintree Grand National.
It was reported that a suggestion that Tiger Roll might not run, in an attempt to win the Grand National for a third consecutive time, unless his rating was reduced.
Joint owners of Tiger Roll are brothers Michael and Eddie O'Leary.
"They say they condense the weights to encourage the good horses to run," said Eddie O'Leary, who manages the racing interests of his brother, Michael.
"If the National isn't well condensed, Tiger Roll won't run. If they want him – it's up to themselves," said Eddie.
"He will be 11st 10lb. He will obviously be top weight. But if it's not condensed down enough, he won't be running," said Eddie.
"We've seen horses condensed 7lb to 9lb before," added Eddie.
O'Leary was pointing at the established practice of compressing the top end of the Grand National weights – so that the differences in weight to be carried – are reduced.
Greenwood said compression had been introduced – to tempt horses that don't normally run in handicaps. Tiger Roll's Aintree Grand National form was rubber stamped when winning at 4-1 favourite in 2019 – repeating his 2018 victory.
"I don't want to be put in the position where I would definitely agree to drop him – that would just be stupid," said Greenwood.
On Tiger Roll's weight, Greenwood said: "I'll give him a weight that I think is satisfactory.
"If Mr O'Leary doesn't want to run with that weight – he doesn't run – it's not about Tiger Roll, it's not a Tiger Roll Fan Club.
"It's a handicap – to try and make it fair for everybody. You'd love to see Tiger Roll in the race, we'd all agree on that.
"But you can't blackmail a system to get him running. We've got to have him running on the weight that the handicapper thinks is just. I sincerely hope he runs."
Tiger Roll won the 2018 and 2019 Grand Nationals, from ratings of 150 and 159, respectively.
Tiger Roll is now rated 172.
The post Aintree Grand National 'not about Tiger Roll' appeared first on Horse Racing Tips and News.