After three Sundays when SAMM had to cancel the planned race day due to bad weather, racing was at last possible on April 14th and 7 boats and their eager crews came to the start line for the first race at 11am.
The wind was a light SSW 3/4 knots and it remained at this for the first 40 minutes but increased to 5 knots for the last 20 minutes of the race. Five boats got a good start but Shoestring Dos was 4 minutes and Ginetta 7 minutes late crossing the line. There were no incidents and the race was unexciting to watch.
The race format was "Average Lap" and after handicaps were applied Mistral with Robert Hudson and Ian Sinclair aboard, was declared the winner with and average lap time of 604.11 seconds.
The wind had backed to SSE 4/5 knots for the second race start at 1pm and all boats got away within 1 minutes of the gun. There was a good battle to the first mark and then the fleet started to spread out as the faster boats pulled away from the slowest. There was some close racing throughout as boats jostled for supremacy.
The wind swung back to SSW and gradually increased to 7/8 knots after 25 minutes, then 8 gusting 11 at 32 minutes and 9 gusting 12 at 42 minutes. Some of the faster dinghies started to find the wind challenging but all held on to finish without problems.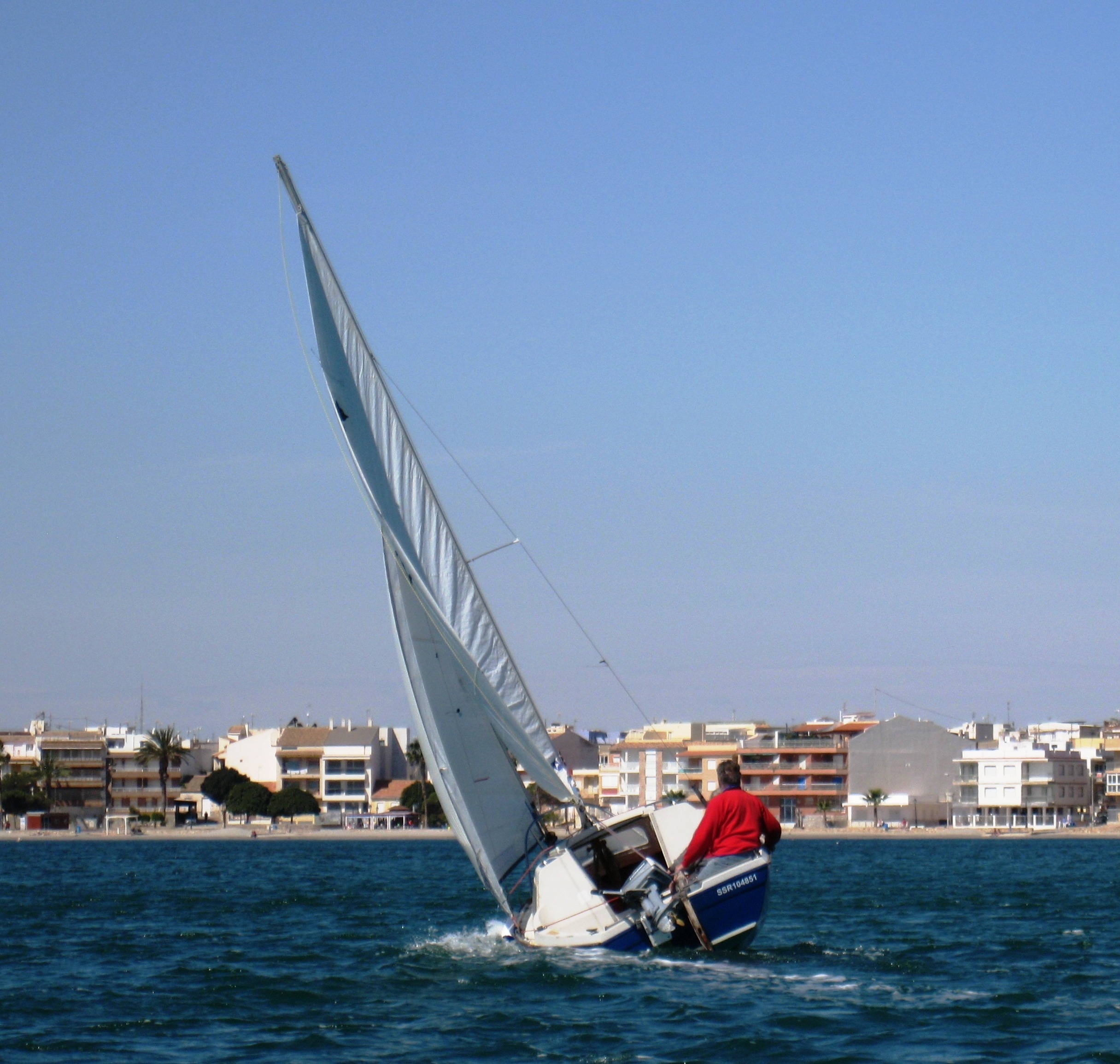 The results were extremely close and showed just how well all crews had performed. The winner was again Mistral with an average lap time of 320.64 seconds. Second was Ginetta in 350.02, third Shoestring Cuatro in 351.99, forth Shoestring Dos 352.62, fifth Sea Hopper 355.21, sixth RS Quba 360.29 and seventh Topaz Duo 377.97. This is probably the closest set of results for many years. Well done everybody!
The next race day is on Easter Sunday April 21st from 10am at CTD, Los Narejos.
You can find out more about SAMM at www.sailingmarmenor.com