I remember once being told by an American professor, "History is never taught in American schools". I was puzzled by the comment, since I have always believed that it is history that informs both our present and our future.
There is much that we don't understand about the United States; Brits are often puzzled by the phrase "our American cousins", which is a meaningless phrase at the best of times, and particularly when it is over used by UK politicians busily looking for trade deals post Brexit.
Although we speak the same language, cultural differences and values abound, and there are often stark differences, which may be difficult for Europeans to understand. Let me take one example, Thanksgiving, where the Spanish dimension seems to be mostly ignored in favour of a more comfortable version of history.
Very soon people all over the United States will celebrate what they believe to be the first ever Thanksgiving in 1621, gathering together with family and friends and celebrating with traditional turkey and pumpkin pie. I really don't want to spoil this very special day, but it seems that the wrong date and event is being celebrated. It really is time that we had a close look at the facts, as they appear to many historians.
According to American tradition, and not necessarily historical fact, most American school pupils are taught that the first Thanksgiving was celebrated in 1621 by English pilgrims who found refuge in America on the Mayflower. Archaeologists at Florida's Museum of Natural History contradict this statement, and claim that the first Thanksgiving was actually celebrated in San Augustin, La Florida in 1565, which is 50 years earlier.
It was the Spanish explorer Pedro Menéndez de Avilés and a motley collection of 800 soldiers, sailors and assorted settlers, which would have included many conscripts from the Canary Islands who were despatched to help populate the new Spanish colonies. It was they who celebrated the first Thanksgiving, and not English pilgrims in their wide-brimmed hats as often pictured. It was these new arrivals from Spain who celebrated the first Thanksgiving, which began with a special thanksgiving mass, before enjoying a shared feast with local Native Americans.
Forget traditional turkey and pumpkin pie, because that first Thanksgiving feast included salted pork and typical Spanish food, such as chickpeas and olives, washed down with red wine. It was unlikely that there would be any cranberries, although it is thought that typical Caribbean foods would have been enjoyed, which Menéndez would have thoughtfully collected during his visit to Puerto Rico, as well as a probable stopover in the Canary Islands, before arriving in La Florida.
According to historians, it is thought that the local Timucuan people would also have joined in with the celebrations, adding fresh fish, berries, beans and corn to the feast. The bank of the Matanzas River was the site of the first Spanish colony in the United States, which is where the first Thanksgiving feast took place.
So, why is it that this essential piece of American history appears to have been forgotten or massaged in a way that ignores the natives? Well, as usual, it is thought to be the fault of the British, because the history of the United States has been heavily Anglicised over the centuries, with America's origins seen primarily as British. This is not the case, since the first colony in the New World was a melting pot that included cultural contributions and interactions with many groups of people, which was totally unlike any other British colony.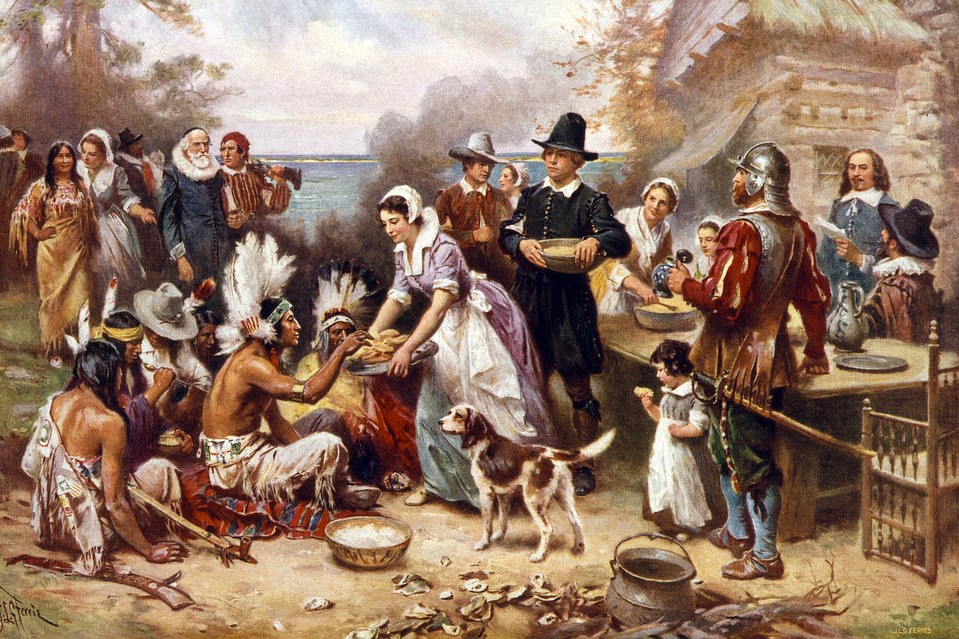 The real history of the first Thanksgiving is particularly important in the current political climate, since the Hispanic population in the United States is growing fast. The importance of the Spanish colony in La Florida to American history is rarely taught in schools, let alone understood by the wider population. The current community of St Augustine founded by Menédez de Avilés on September 8th 1565 has the honour to be the oldest European settlement that has been continually occupied in the country, which in 2015 celebrated its 450th anniversary.
I wish "our American cousins" a happy and peaceful thanksgiving, but urge them to revisit those history books and museum records; forgo turkey and pumpkin pie and instead enjoy tapas and a few glasses of fine Rioja instead. Salud!
If you enjoyed this article, take a look at Barrie's websites: http://barriemahoney.com and http://thecanaryislander.com or read his latest book, 'Footprints in the Sand' (ISBN: 9780995602717). Available in paperback, as well as Kindle editions.
Join me on Facebook: @barrie.mahoney
© Barrie Mahoney