Over the past five years Freemasons from the Provincial Grand Lodge of Valencia have been supporting a children's summer camp and funding places for children to attend. This offers disadvantaged and underprivileged children the opportunity to undertake tasks, sports and cultural activities that they would otherwise be unable to afford. The cost of each child is paid for, in full, by the Masons so there is no cost to parents, the home, school or carers.
This initiative was started five years ago by Hiram Abiff Lodge, in Alicante, and has grown in scale every year since. This year we have funded fifteen places for children of El Preventorio, and another six from the Javea Red Cross, who have received this unexpected and very welcome treat. The school offers many enjoyable activities in a safe and caring environment.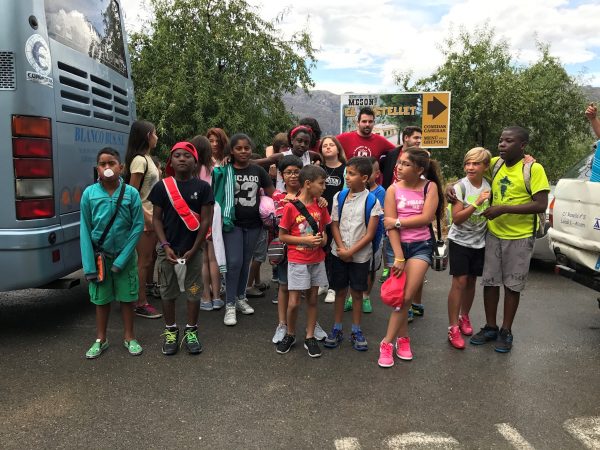 On Saturday, 8th July, the Provincial Grand Master of Valencia, Right Worshipful Brother, Michael Shilan, visited the school to see it for himself. First he met the Director of the School, Sr Juan Carlos Ortuño, then had a tour of the many facilities. He was impressed by the love and care that was shown to all the children, and the many facilities, sports and educational facilities available. He was particularly impressed by the fact that Sr Ortuño had built the entire site himself over the past sixteen years.
It is situated near Guadalest and covers more than 11,000 square meters and is surrounded by the tallest mountains in Alicante. There is accommodation for up to eighty children at a time, fifty in log cabins and another thirty in tents. At the time of the visit over fifty children were in residence. The children, whose ages range from 8 to 14 years old, have a huge range of activities in which to participate. There are two adventure zones in the lower part of the camp with a huge wooden climbing frame and wall; there is also a shooting gallery with four lanes. Close by is a pine forest with many tracks through it, which also encompasses several suspension bridges through the treetops. There is also a three hundred square metre illuminated area for team games.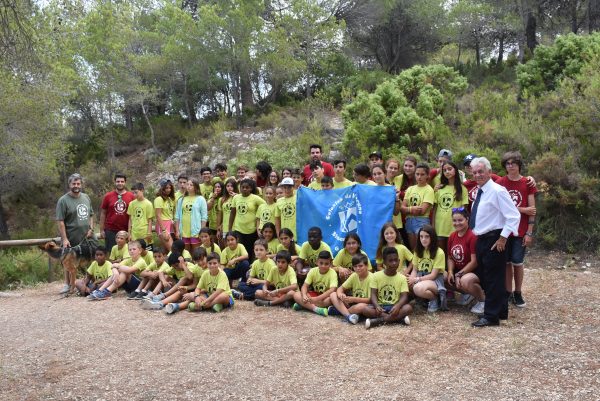 There are also many sporting activities available including archery, climbing at the specially built climbing school just four hundred metres away, which offers more than thirty-five routes of varying difficulty, and twenty mountain bikes with many different routes available through the local countryside and forest. There are three seat canoes for trips across the Guadalest reservoir and four wheel pedal cars for trips around the circuit and for short trips away.
There are also many cultural and educational courses offered. There is an alternative energy workshop, which experiments with solar panels, furnaces and wind turbines. There are tours explaining the local flora and fauna with experiments carried out by the pupils and workshops explaining conservation of the local wildlife. There are theatre workshops and chances for the children to act and try improvisation. There are astronomy workshops with telescopes and much, much more including dancing, songs and storytelling.
In addition to all of the above there will be a chance to visit Guadalest Castle, Noah's Ark (a local wildlife shelter), and trips to Terra Mitica and Terra Natura. In all an action packed ten days in which there will be something for everyone to enjoy. A great mixture of education and enjoyment while learning to live and co-operate with others in a great outdoor setting yet still overseen by caring mentors and carers. This will be an outing that the children will never forget.
Should you be interested in the work of the Freemasons, please contact me on the following email address:
www.glpvalencia.com – WBro William Turney, Press Officer, Provincial Grand Lodge of Valencia