The Orihuela Costa Branch of The Royal British Legion had a busy week with activities on both Wednesday and Thursday night.
On Wednesday over 60 members and guests celebrated Burns Night at Alfie's Place in La Zenia whilst on the following evening, at the meeting postponed from the previous week, the District Community Support Officer from Spain North, Pamela Twissel Cross, brought members up to date with recent changes to the RBL Welfare system.
At Alfies Place the branch celebrated the life of Scotland's National Poet – Robert Burns in a way he would have wanted – eating, drinking, dancing, piping and poetry! Burns wrote some of the world's most famous songs and poetry including Auld Lang Syne and the Orihuela Costa celebrated his birthday in fine style.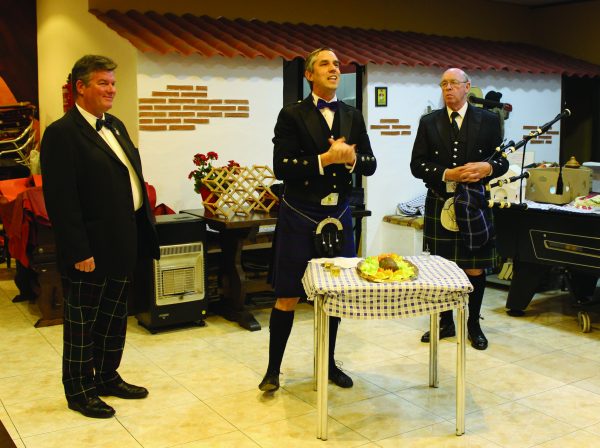 Members looked on as the haggis was piped in by Barry Waddington of the Torrevieja Pipes and Drums. It was presented by branch member Terry Maguire following which Mark McMillan seized his moment of glory by offering a fluent and entertaining rendition of the Burns' poem – the Address to the Haggis. Rabbie would have been proud as Mark put in a spectacular performance following which the haggis was served with Neeps and Tatties, although there was not too much disappointment as the turnips, which are not easily available in Spain, had to be substituted by carrots.
With the meal out of the way it was the turn of Terry Maguire to provide the humorous highlight of the Night with the Toast to the Lassies. In his presentation Terry praised the role of women in the world today, especially his wife Kate, with selective recollections from a recent weekend break. Needless to say, at the end of the evening the journey home was completed in silence!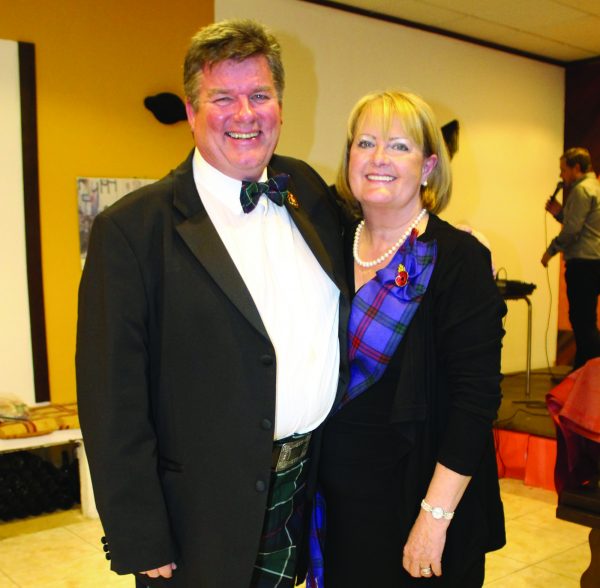 But not to be outdone, Kate did have the opportunity to answer as she was next up with the traditional reply to the Toast to the Lassies, in which, with her witty response and her quotes from the bard, she amply gained her revenge for the women.
During the course of the evening Mark McMillan entertained the diners with the Gillie Callum or "Scottish sword dance" around two crossed swords and then toward the end of the celebration he was joined by fiancé Angie Real as the pair treated members to a highland dance.
Special mention must be made of Barry Waddington who, despite his illness, provided the piping accompaniment throughout the evening, to Dan Davy who crooned his way through the great American songbook and to the organiser, Branch Secretary Jean Heald, who spent many hours ensuring that members had an entirely enjoyable evening.