In the latest round of "Battle of the Basement-Dwellers" CD Montesinos took on Sporting San Fulgencio at their temporary home ground of cross-valley rivals Racing San Miguel on Saturday. Monte's pitch is currently being upgraded, so a change of venue for this fixture was necessary.
In the corresponding fixture earlier in the season, Fulgencio edged a poor game by a single goal, but this time out, the story was very different.
Monte named an unchanged line-up from last weeks loss to AC Torrellano, with the bench consisting of 'keeper Steven, Mario Pastor, ever-improving youth player Adrian and returnees Diego and Dimitry. Still no sign of long injury Maccan returning to the fold though.
The game kicked off in bright sunshine in front of a crowd of about a 100, mainly Monte faithful. The first twenty five minutes or so were largely uneventful, with Fulgencio playing pretty triangles in their own third of the field, only the occasional hopeful or wayward punt up field, easily dealt with by Monte's back pairing of Manual and Morante.
Monte, for their part, looked somewhat nervous (to be expected, given their precarious league position), but at least showed some bite in midfield, with the tenacious German and David snapping at the opposition's heels at every opportunity. Carlos Lorente also looked a handful on the left flank.
The deadlock was finally broken on the 27th minute when, following a scramble in the Fulgencio area (and a good handball shout being turned down), Daniel sent a fizzing drive through a crowd of players, into the corner of the net.
Just three minutes later, following an appalling defensive mix-up, Vaz's commitment to chasing the lost cause paid off when he found himself all alone and contemptuously walked the ball into an empty net. Fulgencio were on the ropes and needed to pick themselves up or they were in real danger of being swamped, having no answer to Monte's quick attacking thrusts both through the middle and down the flanks.
They almost pulled one back when a cross from wide left bobbled across the Monte box, only for Fernando to tidy up before the lurking Fulgencio forward could pounce.
Fulgencio continued to huff and puff to no avail and Monte ended the half comfortably on top.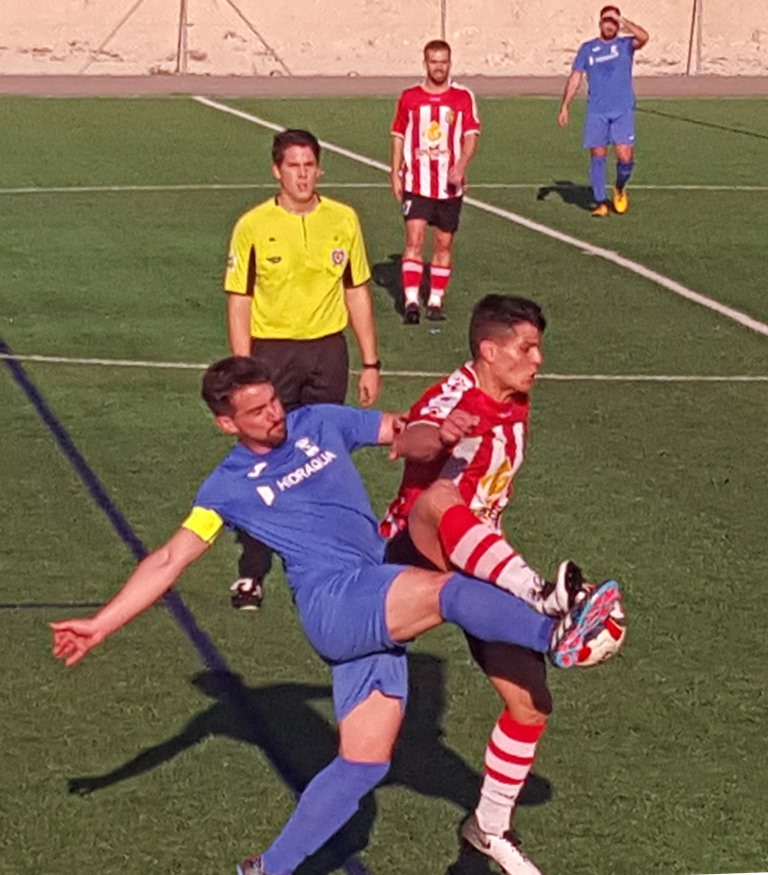 Half Time: CD Montesinos 2 – 0 Sporting San Fulgencio.
If Fulgencio thought they might stage a comeback in the second period, they were rudely awakened when, in the very first minute, Roberto warmed the keepers palms with a stinging shot. Just five minutes later their task got harder when, following excellent work again by Roberto, Morante found time and space in the box, to pivot and shoot high into the Fulgencio net. A clinical finish from the big lad. The Montesinos supporters could hardly believe what they were seeing, their side was almost totally dominating a Fulgencio side that simply had no answer to their play.
On the 57th minute, Coach Ruben decided to take off Carlos Lorente, replacing him with Mario and eight minutes later swapping German for Diego. Both substituted players receiving a warm response from the gathered supporters. Clearly Ruben was looking to freshen things up expecting an onslaught from Fulgencio.
That never materialised, in fact, Fulgencio continued to look punch drunk and on the 67th minute the game as a contest was over when following a mazy run into the opposition area, in which he lost the ball twice, the tireless Alex managed to bundle the ball home for Monte's fourth. A just reward for his tenacity and persistence all afternoon.
Further substitutions saw David replaced by Adrian and Roberto by Dimitry as Monte took the chance to wind the clock down.
The final coup-de-grace was applied when the exceptional Daniel added his second on 86 minutes, coolly slotting home after persistent work from Vaz.
Fulgencio had nowhere to go, demoralised and thoroughly outplayed in nearly all areas of the pitch, they had hardly troubled 'keeper Carlos all afternoon. So it was somewhat of a disappointment that, following a momentary lapse of concentration at the back, Fulgencio were allowed a consolation goal, right at the death as it turned out. The Monte Mentals in attendance didn't care though, they had seen their team play well and put an opponent to the sword with ruthless finishing that surely must give some hope for the battles to come.
Final Score: CD Montesinos 5 – 1 Sporting San Fulgencio
TEAM:- CARLOS, FERNANDO, MANUAL, MORANTE, ANGEL ALEXIS, CARLOS LORENTE, DAVID FEBAS, ROBERTO, GERMAN, VAZ, DANIEL.
SUBS:- STEVEN, DIMITRY, MARIO, ADRIAN, DIEGO.
Man of the match was Daniel.
Match report by Steve Robinson.