IN AID OF CUDECA HOSPICE & LA CAMPANA FOOD BANK – Benalmádena, 28th NovemNext Thursday 1st December, a unique event involving The Art Club in San Pedro de Alcántara will take place at their club in C/ Manuel Cantos, nº 8 in San Pedro.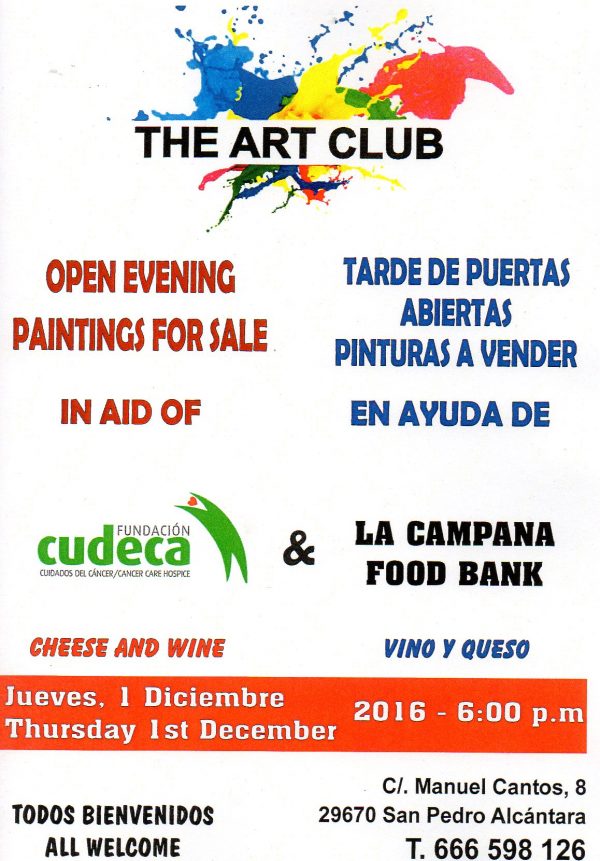 This is an Open Evening where paintings will be for sale and you will be enjoying some delicious wine and cheese from the area. Yu will be able to meet some of the artists and ask them about their work. It is a great opportunity to meet new people in a nice environment full of art and creativity. And maybe you will feel the urge of learning how to paint!
Free entrance, wine & cheese & everybody is welcome. Do not miss the chance to buy your favourite painting and help Cudeca Hospice – Cancer Care & La Campana Food Bank. All proceeds will go to both charities.
For more information please contact Sue (666 598 126) or Cudeca Hospice.
Cudeca Hospice cares for over 1,100 people each year suffering from cancer or other advanced non-curable illnesses. Cudeca offers their "Special Care" to the patient and support to the family thanks to their professional team of doctors, physicians, psychologists, nurses and qualified volunteers.  Since 1992, Cudeca has cared for more than 11,000 patients, coordinating from the Hospice Centre the following care programmes: Home Care Visits, In-Patient Unit, Day Care Centre and many other multi-disciplinary activities. All the support provided is completely free of charge.  
Date: 1st December, Time: 18.00hs, Location: C/ Manuel Cantos nº8, San Pedro Alcántara
More info: Sue (666 598 126) Or Cudeca Hospice
I CARE WITH CUDECA HOSPICE, DO YOU?