La Siesta, Alicante, resident John Francis De Veras talks to reporter Andrew Atkinson in Part 2 of an Exclusive interview about his life at ITV's Oxford Circus London studios; sailing to Estepona, Andalusia, on Spain's Costa del Sol, and the heartbreaking story of his Russian wife Reka's passing.
SIR Trevor McDonald was headline news on British television for years – literally – being the anchorman for ITV's News at 10.
"I was Trevor McDonald's assistant – his 'Ghofar' – run, fetch, carry me, during the years of filming the ITV news in London," said John, who worked behind the scenes as a production assistant.
"I worked on the production side for 20 years – a lifetime – prior to being made redundant, when I headed for Spain," said John, born in London to Spanish parents.
"The building I worked in had three TV studios – for the midday news, the evening news and News at 10," said John, who started as a junior assistant producer.
"All the big worldwide news events would be presented on News at 10 – the most important programme I was involved in – news stories were changing by the hour," said John.
John, 79, said: "It was non stop excitement. Andrew Gardener, Reginald Bosenquet and Trevor McDonald were the most famous newscasters.
"I worked alongside Trevor McDonald towards the end of my career – from being a very unimportant junior production assistant – but very well paid.
"Trevor McDonald – Sir Trevor – was a very nice man. There were many famous big names that came into the studios, including the Royal Family, that included HM The Queen.
"At the time it was never a case of thinking that they were special people. They were the substance of the TV programmes that were made. The viewers loved it."
John, who lived in Shepherd's Bush, also worked on ITV programme Police 5: "Police 5 was an important programme. I loved it. Shaw Taylor presented Police 5.
"It was his idea to present a programme, for viewers to help in crimes committed, in a hope of helping to catch criminals.
"Details of criminals on videos, showing the crimes committed," said John.
John added: "Since I retired I have travelled throughout Spain, and settled in La Siesta nine years ago, having had no previous fixed abode.
"I lived on a boat for years, moving from one harbour to the next, on the Costa del Sol. Having arrived at Estepona harbour I stayed there for a long time.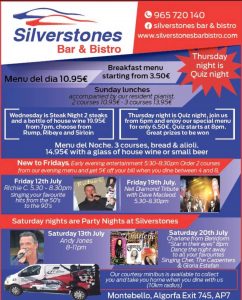 "I sailed from England to Gibraltar, and on to Estepona, where I moored."
John added: "I have travelled around England many times – now my life is in Spain of which so many places have changed.
"Guardamar, from the place I knew many years ago, is one such place that has changed so much down the years."
John, still heartbroken, spoke about meeting a lady, who later became his wife, only to be cruelly taken away from him.
"I had the good fortune, good luck in life, to meet a lady, Reka – who I fell in love with – and sailed the seas, from port to port," said John.
"We travelled to the Baliaric Islands, and eventually arrived in Torrevieja. I was the happiest man alive – up until three years ago when I lost her.
"I lost the woman I loved. I suppose that is life. Reka was a lovely lady, born to a Russian mother. She was a wonderful woman," said John.
"Reka's passing was due to a combination of Alzheimer's, that was so severe the rest of her body couldn't cope, and she died of a heart attack," said John.