The Ciudadanos political group believe that they have come up with a temporary solution to solve the congestion on the N-332 in Torrevieja, by adopting a method used around the country during the busiest periods.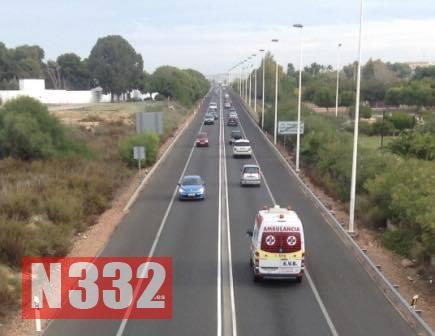 At times of expected congestion, such as summer, Easter, Christmas, the traffic department often creates
temporary lanes using cones and beacons
which allows for more traffic to flow in a particular direction, temporarily increasing the number of lanes. As an example, roads leaving from major cities may see additional lanes created exiting the area at the start of a holiday period, and then lanes created inbound for the return.
Related:
Ministry rejects N332 widening plan
Ciudadanos has submitted a proposal to the national government asking that this method be adopted on the N-332 as it passes Torrevieja, thus doubling the road capacity, albeit on as temporary a basis as needed. Pilar Gómez Magan, representative of the Ciudadanos, stated that with 300,000 inhabitants in the summer, it is an obvious solution to the problem as it could very simply double the capacity of the road. Of course with the summer season already in full swing, the road is already heavily congested and quite whether the solution will be adopted in time remains to be seen, as there would still have to be a considerable risk assessment carried out as although the solution would increase capacity, it would take away a safe area as it would mean utilising the hard shoulder for the entire stretch of road.