Do you remember, years ago, going to your local ballroom or dance hall taking your partner in your arms and waltzing or foxtrotting around the floor to a live band? Would you like to relive those days? Now you can. Every Sunday from 7pm – 10pm The Club in Quesada becomes that ballroom and you can, once again, take your partner in your arms and dance to live music in strict tempo time.
The Strictly Tempo Dance Club is ready and waiting to welcome dancers of all nationalities and abilities for a glorious evening of dance incorporating everything from waltzes, quicksteps and foxtrots to the livelier latin and jive dances.
Live music is provided by the Contrasts Duo with Derek Symonds on keyboards and Mike Reilly on drums. Derek was a well-known musician along the south coast of England playing keyboards in bands, duo's and solo in hotels and ballrooms for many years.
Mike Reilly (aka Mick the Stix) honed his strict tempo drumming skills playing in dance bands on P&O cruise ships but went on to carve out a career in many bands travelling all over Europe. The pedigree of these two musicians is exceptional and dancers will revel in the quality of their musicianship.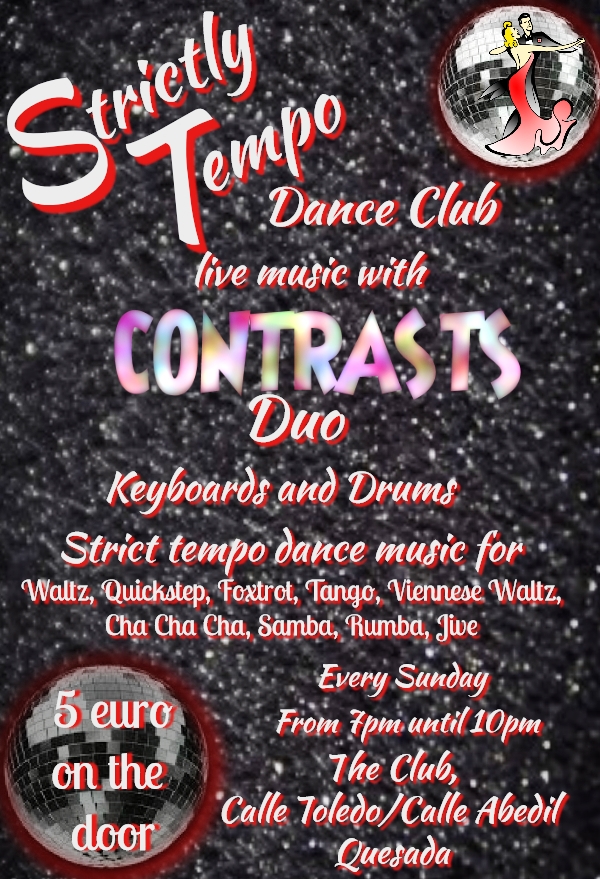 To allow dancers to get a taste of what they can enjoy every Sunday, their first visit will be free of charge and thereafter a nominal entry fee of 5 euro per person. You can become a loyalty member of the Strict Tempo Dance Club, absolutely free of charge, and for being a member every 5th then 10th, and so on, will get free entry.
So dig out those dancing shoes from the bottom of your wardrobe, tell all your friends and come along and enjoy a lovely evening of music and dance. It promises to be the answer to all dancers' prayers of a somewhere, at last, where dancing is the priority. If you're not a dancer, then you can still have a lovely evening sitting back enjoying a nice glass of wine or two listening to songs you'll remember relaxing in the ambience.
Contrasts Duo are also available to provide music for any venue whether a tea dance or function for associations, clubs and organisations.
For more information please telephone 688 387 490.