A somewhat rare of late overcast day found 45 members and 2 guests turn up at La Torre for the third round of this season's Bogey's Medal Shield. Given that the medal format is one not liked by a number of members the turnout was excellent, quite possibly helped by the recent society introduced regulation of allowing only a maximum of plus five to any hole's par for each and every player.
Thus on a par 4 nobody will score worse than a nine, on a par 5 no worse than a ten. This does away with cricket score like numbers returned in the past for individual holes, helps speed up play, and allows a player having a really bad hole to remain within the competition. Clearly a large number of players took advantage of this ruling with a high number of eights, nines and tens posted.
Those going out earliest got the better of the weather, with the wind increasing dramatically from one o'clock onwards. Whether this impacted on four hour rounds for the early starters to five hours for those bringing up the rear wasn't determined, but it is the case that slow play remains an issue and all members need to be aware of the importance of keeping up with the group in front.
La Torre is a course not often visited by SMGS and many found it hard to remember particular holes with the exceptions of the par threes 9th and 11th with their carry over water and little bailout room. Graeme Forbes gets a special mention in this week's report for his winning the nearest the pin on both of these very similar and difficult holes.
In the overall competitions, Mike Jordan and Colin Rust won their respective categories of Bronze and Silver with the day's best scores of nett 68 (the course's par). Robin Eastman took the Gold Category with a nett 71, beating his match play opponent Jim Imrie in a secondary SMGS singles competition in to second place on countback and taking the prize in their particular dual at the last.
After three rounds Barry Roehrig comfortably leads the Bogey's Medal Shield competition, with Phil de Lacy leading the chasing pack.
The day's winning results, by category and in reverse order, were the following:
Bronze Category: 5th Brian Butler (76), 4th Roger Carter (75), 3rd Alan MacDonald (72), 2nd Brian Mulligan (71) and 1st, with the day's best score on countback with a nett 68, Mike Jordan.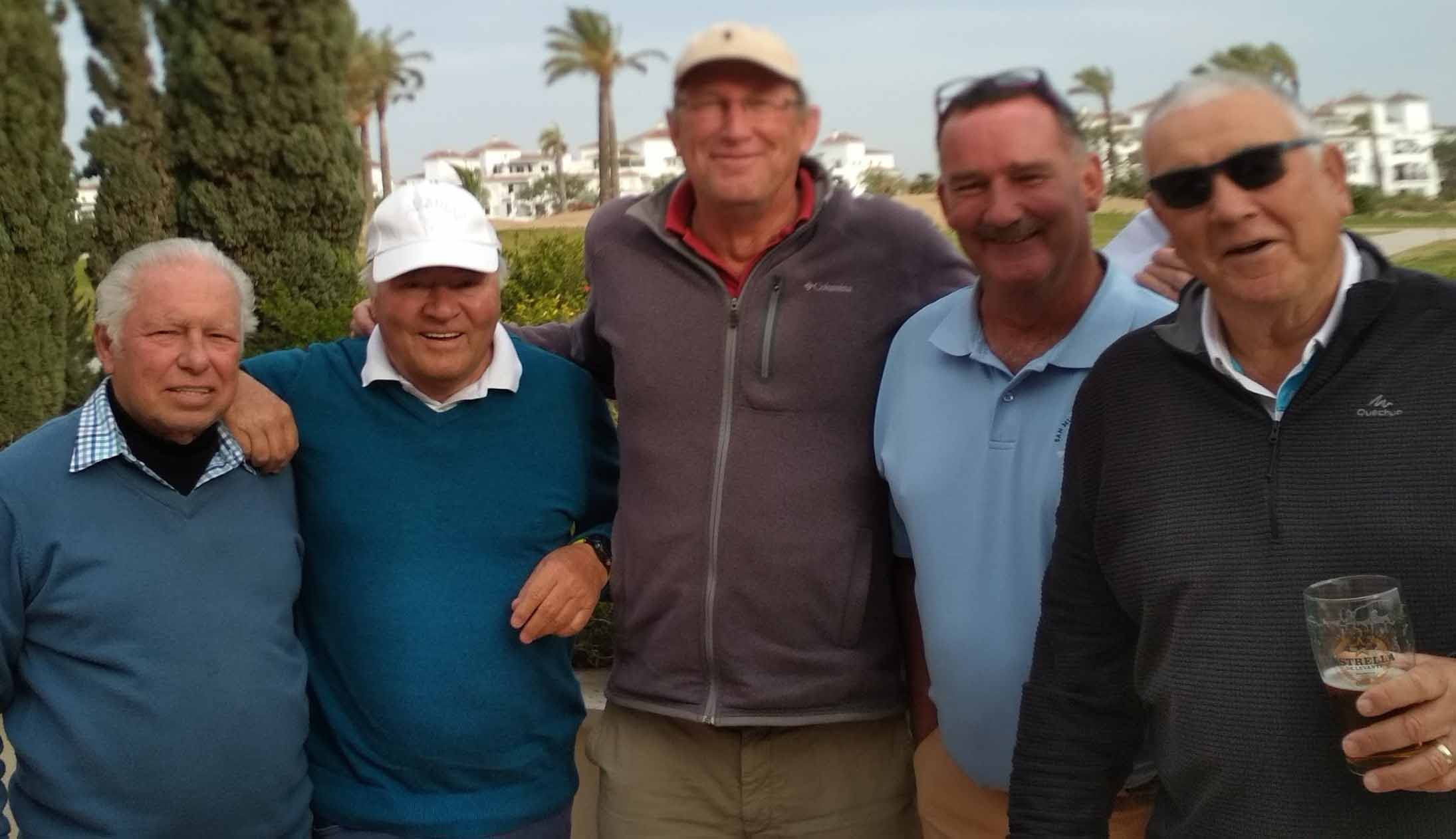 Silver Category: 5th Dave Gibson (72 on CB), 4th Paul Kelsall (72 on CB), 3rd Chris Wren (71), 2nd Peter Girenas (70) and 1st Colin Rust with a nett 68.
Gold Category: 5th Theo Boelhouwer (73 on CB), 4th Barry Roehrig (73 on CB), 3rd Keven Mitchell (72), 2nd Jim Imrie (71 on CB) and 1st Robin Eastman, also with 1 nett 71.
Nearest the pins: Hole 3 John Humphrey, Hole 5 Tony Smale, Hole 9 Graeme Forbes, Hole 11 Graeme Forbes, Hole 15 Tommy Boyle, Hole 17 Mike Greatorex
Abacus: Ray Seaman
Best Guest: David Alderdice (72)
Our thanks go to all La Torre staff for their contribution to an enjoyable day. Next week we will be at El Plantio, and on following weeks at Alenda and Vistabella. Keep up to date with all SMGS matters by logging on to our website www.smgs.org or simply give Captain Tony Smale a call on 628227687.