Three Spanish European Tour winners in 2018 – Adrián Otaegui, Pedro Oriol and Scott Fernández – look forward to the last regular event of the season.
Tuesday, September 11, 2018
All eyes will be turned towards Valderrama from October 18-21 as a strong Spanish field gathers for the Andalucía Valderrama Masters hosted by the Sergio García Foundation. This is the last regular event of the 2018 season which is open to all European Tour members, and it carries a particular significance for the home contingent led by tournament host Sergio García.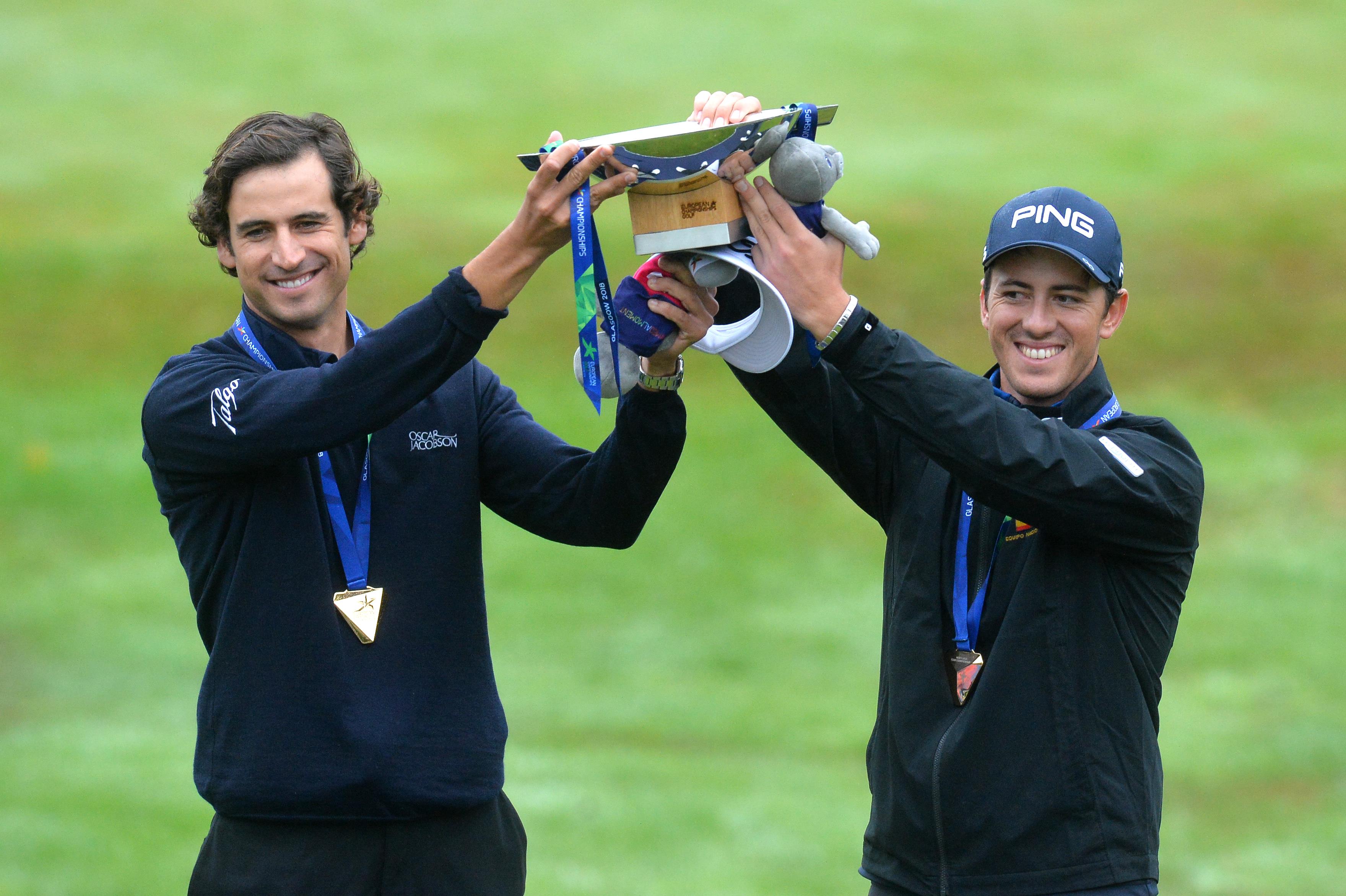 Otaegui, Oriol and Fernández cannot wait for the action to begin.
Adrián Otaegui: "Playing at Valderrama is awesome"
25-year-old Otaegui, currently playing his fifth full European Tour season, is enjoying his best year up to date well positioned in the upper half of the Race to Dubai. After winning the Belgian Knockout in May, his second European Tour title, he sets his aims high for Valderrama where he finished tied 12th in last year's edition.
"Valderrama is one of the courses I enjoy the most and my favourite course in Spain for sure. It's always in top condition. Playing at Valderrama is awesome; you need to bring your best game in order to score decently and that's a big motivation for me.
"It's a challenging layout with no room for error. The greens are small, so accuracy is key both off the tee and approaching the green; you need to find the right angle when attacking the pins and try to leave yourself uphill putts. It's a thinker's course, but strategy can vary from day to day depending on the wind and the course setup. It's a course you need to know, and the more you play it the more you're going to learn from it. I have been lucky enough to play it many times, so I can benefit from that experience.
"Valderrama has so many good holes that I can't pick the best one. I particularly like the par threes. The 6th had a very steep green, but it has been flattened a bit; the 12th is a strong par three; and the 15th is also a great hole."
Pedro Oriol: "If you play well at Valderrama, you will play well anywhere in the world"
Oriol earned his 2018 playing rights on the European Tour by finishing 10th in the Challenge Tour rankings. Earlier in 2017 he collected his first Challenge Tour title in the prestigious Rolex Trophy.
Pedro enters the final stretch of the season boosted by his victory in the European Golf Team Championships together with partner Scott Fernández, and looks to end the season strongly in a venue that means a lot to him.
"I always think of Valderrama as my preferred golf course for many reasons: for its history – Ryder Cup, Volvo Masters, WGC events; for its great champions – Seve and now Sergio; for the iconic 17th. But also because every single shot you hit at Valderrama is a challenge. Every swing must be pinpoint accurate. Tight fairways lined by cork trees; small, fast and slopey greens; thick rough and relentless wind make a true test of golf. Mi favourite hole is the 15th, and if the pin is tucked back right it's just perfect for my fade. I love the sight of the green as it stretches downhill to the right, well defended by bunkers on both sides.
"Every time you tee it up at Valderrama, both in competitive and friendly rounds, you get a feeling of maximum challenge, and that is invaluable for a professional because you learn so much. If you play well at Valderrama, you will play well anywhere in the world. We in Spain are very lucky to have a world-class venue like Valderrama, and we owe it in great measure to Jaime Ortiz-Patiño. Personally, I am most thankful for being allowed to enjoy the facilities of this wonderful club and made feel at home whenever I come to this area.
"Last year I was busy fighting for my European Tour card on the Challenge Tour so I missed out on the Andalucía Valderrama Masters. I feel honoured and excited to play this year and look forward to a good week. I've heard that this event might be included in the Rolex Series. Hopefully that will happen soon and Valderrama will continue to host spectacular tournaments."
Scott Fernández: "I couldn't think of a better place than Valderrama to start my professional career"
In his first full European Tour season, Fernández will return to Valderrama where he made his professional debut. After winning gold for Spain paired with Oriol at the European Team Championships, he looks forward to retaining his tour card in his native Andalusia.
"I am excited to play the Andalucía Valderrama Masters, a great event that makes me proud both as a Spaniard and as an Andalusian. I played my first professional tournament at Valderrama – the 2016 Open de España – thanks to an invite from Sergio García. I am really grateful to Sergio because I couldn't think of a better place to start my professional career than the course that hosted the Ryder Cup in Andalusia, my homeland.
"My first European Tour event as a spectator was the 2006 or 2007 Volvo Masters. I went with my father, and I remember watching Sergio and all the top players. I was impressed by the sound of the shots amongst the cork trees and by the view of the greens from the fairways and the tees.
"If I must choose two holes at Valderrama I would go for the 17th and the 15th, but I really like them all. The 15th is a tough par three with a stunning view. I have noticed some changes on the greens, which are now fairer and allow for more pin positions. The 11th, tough still narrow, has been widened to the left, which gives a little bit more space and creates an interesting pin option behind the bunker. The 16th used to be surrounded by rough, but now the front of the green has been left open.
"I love this course because you really have to think your way through every hole. Strategy is key for dealing with these swirling winds, so I have more or less planned my strategy for each type of wind. It's a super golf course that tests every aspect of your game. I have been lucky to play it several times and to practice some days during the winter, so I would like to thank the club management for their hospitality."
Tickets for the 2018 Andalucía Valderrama Masters hosted by the Sergio García Foundation are available HERE. Children under 14 are admitted to the event free of charge when accompanied by a ticket holding adult.
The Andalucía Valderrama Masters – a Race to Dubai event – is sponsored by the Council of Tourism and Sport of the Junta de Andalucía and supported by the European Union (European Regional Development Fund), La Reserva de Sotogrande, Rolex, Heineken, Dubai Duty Free, Diputación de Cádiz, Shell, Exterior Plus and Santander Private Banking. Only Water, Quirónsalud and Korporate Technologies Group are official suppliers.