The ninth annual walk for life, organised by the Pink Ladies and Panthers, took place on Sunday morning, getting underway mid-morning from it's usual starting point at Flamenca Beach on the Orihuela Costa.
The solidarity campaign was aiming to raise awareness of cancer and the support available both before and after diagnosis, as well as raising funds to cover the cost of its subsidised Screening Programmes provided by doctors, nurses, social workers and local volunteers.
In 2017 the event raised €12,115.36 and with the Queen Victoria Pub in Cabo Roig already having pledged over 2000 euro, and registrations bringing in a similar amount, press officer Carole Weaver told me that, with of excess of 500 people walking, the charity was hoping to do rather better than last year.
Although the walk didn't get underway until just after 10.20 volunteers were queuing up at the registration desk as early as 9 o'clock. Once they had booked in they were able to wander around the merchandising and refreshment tables, talk to the many volunteers, and make their appointments for mammogram, smear, prostate, colon & skin cancer tests, while they waited for the walk to get underway.
Advance booking for these checks forms part of the AECC's Early Detection Programme – and is always a most important part of this event.
Having collected their free bottle of water provided by Evolution Bar, and free t shirt, courtesy of Spain Property Shop, and with the Orihuela Costa Local Police and Protection Civil marshalling the 5km route, a ribbon of colour, which included the Councillor for Beaches Louisa Boné, streamed off along Calle de los Orquideas, past the Correos office toward the Ayuntamiento.
Whilst a number stepped out briskly at the front, there were many who preferred to take a rather more leisurely pace, some with small children in pushchairs, many walking their dogs and of course a number with plastic hips and knees, all of whom had no interest at all in racing around the 5km course.
Many participants who had undergone treatment for the illness and were there to chat along the route to other walkers, to provide their support and encouragement, and to help those other sufferers who were currently going through the process themselves.
One rather elderly walker said to me "I have the t shirt and I have done it all before," as she ambled off in no hurry at all at the back of the pack. "I might not finish the walk until after lunchtime but have not doubts, I will be back."
On completing the route and gathering once again at Playa Flamenca Promenade, the walkers and their supporters were treated to some of the best entertainment that the Costa Blanca can offer with Just Ollie, Nikki G, Paul Michael, Dan Davey, David John Williams, Elvar & Brenda, Janelle Gaskell, Sally Ann Rogers, Johnny Lea, Cindy Fitzpatrick & Texas Ted all providing their services absolutely free. Once again, that fundraiser extraordinaire, Stevie Spit was hosting the event along with long-time supporter, Simon Morton from Sunshine Radio.
There were also a number of AECC merchandising and refreshment stalls, all hoping to do brisk business, along with adults and children's tombola, and of course the many volunteers who continued to book appointments and answer people's questions and queries.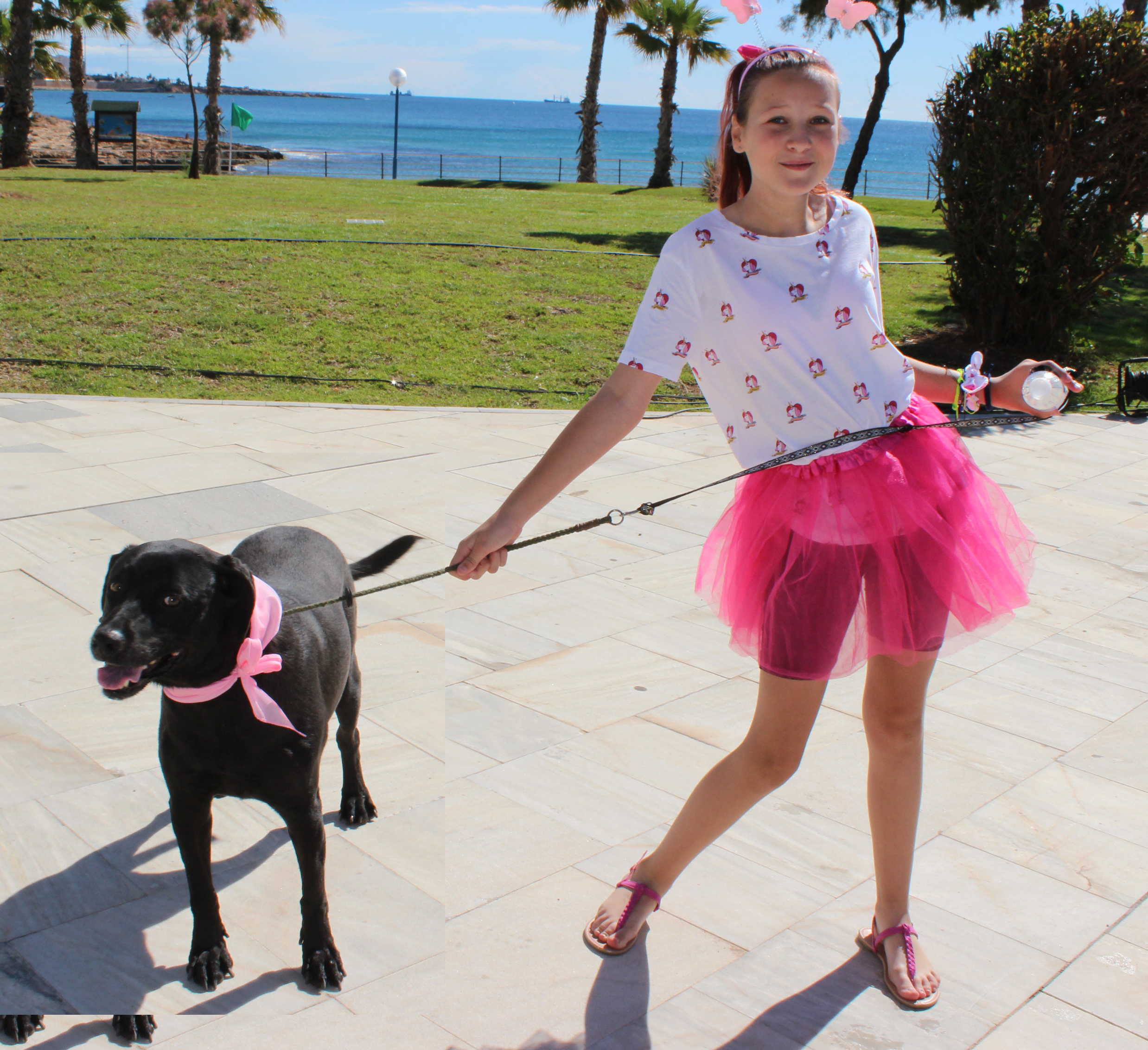 So a very well done to all that contributed toward raising these funds and to the many volunteers which, without the support of the greater community, along with the participation of the walkers of course, raising such a large amount would not be possible.
The Pink Ladies and Panthers wholeheartedly welcome the support of all institutions, companies, people and, above all, the incredible volunteers who will help them to eventually realise their big dream – a world without breast cancer. More information on their web page http://pinkladies.es