Torrevieja's international tenpin club EBT put together a strong weekend show at Paterna's Ilusiona Bowl (men) and Madrid's Alegra Bowl (ladies), respectively, host centres of the second leg of the National Tenpin League's Championship Division.
On Saturday, the Torry men won all their matches, beating Joventut 6–4, Boliches 8–2, Capital 10–0, and Celta 6–4. Having started in third place, they were now topping the table with 75 points, just one point clear of Boliches and three ahead of Capital.
In the three remaining matches Sunday, EBT remained strong until the end, sending off Vaguada 9–1, Comarcal 8–2, and Levante 9–1, thus managing to increase their lead to seven points.
Their average take per match was 8 points. Five of the Torry players averaged more than 200 per game, Mats Maggi (BE) being the most effective with 222.64. Also bowling for EBT were Alejandro Arjonilla (ES, Captain), Lorenzo Quereda (ES), Ferico Tatil (ES), Artur Colomer (ES), Marko Palomäki (FI), and Mika Määttä (FI).

In the ladies' top division, EBT's five-nation team, Maria Jesus Perez (ES, Captain), Eva Sandgren (SE), Heidi Thorstensen (NO), Peppi Konsteri (FI), and Christelle Piccoli (BE), only positioned 7th after the first leg, started off strong on Saturday, beating Levante 9–1, Torrejón 6–4 and Capital 9–1. They lost 2–8 to the leaders, Ilicitano, whose Finnish superstar Krista Pöllänen managed to string together 12 strikes for a perfect 300 game.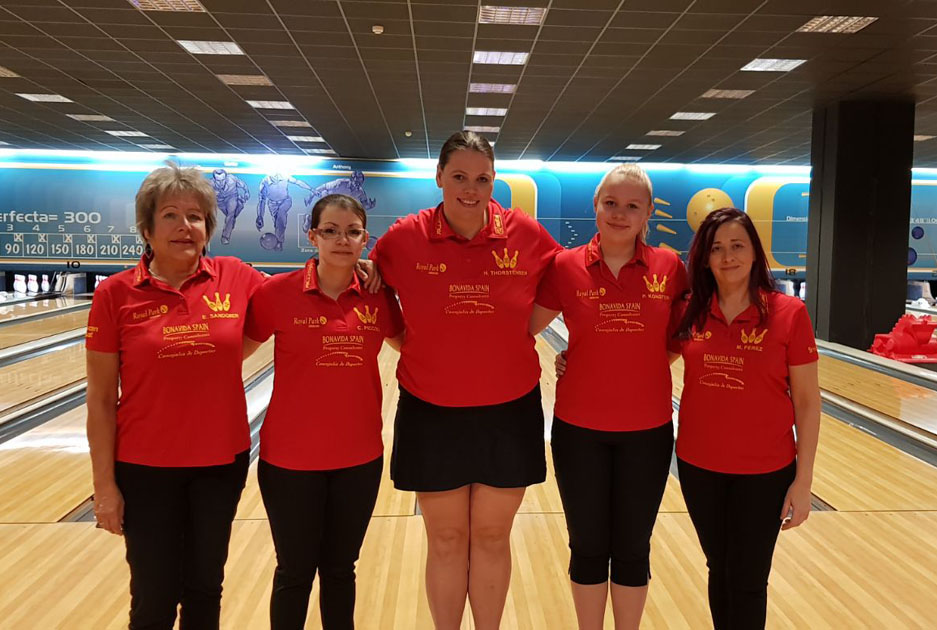 EBT were finally able to advance to fifth position on Sunday, thanks to their two 9–1 wins (Vaguada and Flecha 1) and a 3–7 loss (BT Fusion). They were the next-best team in winning points: 47, an average of 6.71 points per match. EBT's top scorer was the young Finn, Peppi Konsteri, with an average of 196.

The men will bowl their nail-biting final leg 5-6 May in Madrid, while the ladies can count with plenty of local support that same weekend on their home lanes at Torrevieja's Ozone Bowl.
Guillermo