CD Montesinos 1 – 2 Intercity San Juan de Alicante….. by Eddie Cagigao
CD Montesinos entertained the money-men of the 1st Regional Division, Group 8, Intercity San Juan. The visitors arrived in second place in the group but with a determination to win this group and gain automatic promotion at the end of the season. They are certainly not afraid to put their money where their mouth is as has been proved by their two star signings just before the Christmas break.
To give you an idea, those two players earn more by themselves each month than the whole of Montesinos squad put together!
But it has to be said that the men managed by Carlos Perez were superb today. They gave their all, recovered from a first 20 minutes when it looked at times as if the visitors would over-run them, it was during these first twenty minutes that Intercity scored twice on the break, but fought their way back into the game and were unfortunate not to take a share of the points at the final whistle, when only an outstanding save by the visiting goalkeeper prevented what would have been a well-deserved Monte equaliser.
With Montesinos still missing possibly their most influential player, Maccan, as well as long term injury victim Joao, the visitors started at a fast pace which at times left Montesinos trailing in their wake.
The first blow arrived in the 11th minute with a good slice of fortune as the ball looped over the Monte keeper, Dani and went in off the post. A second goal for Intercity came on 24 minutes on an excellent break away which made it 0-2 and left many in the 250 crowd asking how many more this side would score.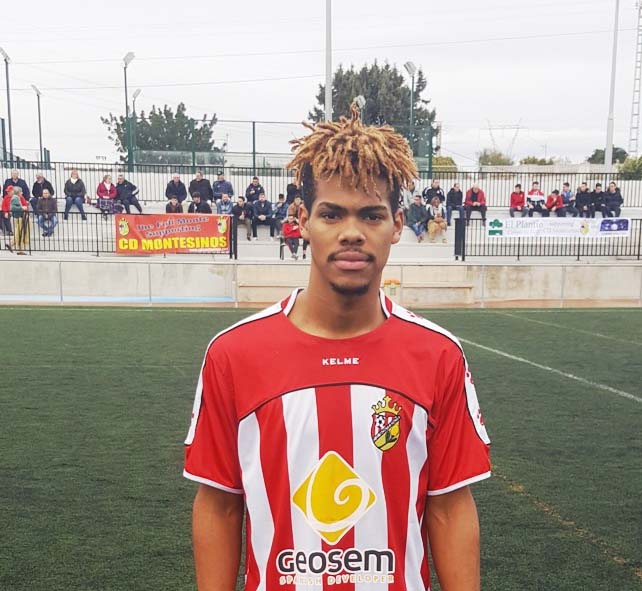 But Montesinos demonstrated they are built of sterner stuff and slowly but surely started coming more and more into the game. Vazquinho went close, Ventura was giving the visiting defence all sorts of trouble in what will almost certainly be his last game for the Club as he leaves to go to Hercules at a higher level. Then, on 25 minutes, Manu Sanchez took a pass on the edge of the visitors penalty area and strikes an unstoppable shot into the top corner of the net. Game on!!
It was all Montesinos now as their players finally realised that that winning this game was within reach and it was Intercity, with all their financial clout, that were thankful to hear the half-time whistle.
The second 45 minutes made for a fantastic game to watch with both sides always trying to find another goal. The game ebbed and flowed with Montesinos having the better of the chances and pressing higher up the field as they tried desperately to find an equaliser. The visitors, as you would expect from a side put together to gain promotion, tried to hit Monte on the counter and nearly succeeded on a couple of occasions.
However, deep into injury time at the end of the game, Montesinos almost nicked a point but the visiting goalkeeper pulled of a magnificent save to tip the ball around the post when the whole ground was already shouting GOAL!!
So it was defeat for CD Montesinos. However, this was a defeat which demonstrated that a very humble, hard working side from a very small village can certainly live with the big boys at this level. Each and every one of the Monte players played their part but defender Dimitri was chosen as the Man of the Match by the sponsors of the game, H.E.A.T., after the match.
A big shout must also go to Carlos Eduardo Ventura who leaves the Monte family today. We wish him well in his new venture at Hercules CF and thank him for all the pleasure (and goals) he has given to the club and supporters.
The next game for CD Montesinos is an away game at Santa Pola, who are just one point ahead of us with 25 points and two places above us in 6th position in the league table. After two defeats on the spin, this would be a good time for CD Montesinos to get back to winning ways. Date and time have yet to be confirmed so please keep up to date with everything CD Montesinos on our Facebook page (CD Montesinos).
CD Montesinos:- Dani, Alex, Fernando, Dimitri, Manu, Manuel Sanchez, Pastor, Guirao, Luis, Ventura and Vazquinho.
CD Montesinos Subs:- Sergio (GK), Manuel Saez, Javi, Daniel Saiz and German
CD Montesinos Scorers:- Manuel Sanchez.
CD Montesinos travel away to Santa Pola to play Santa Pola CF at Estadio Municipal "Manolo Macia", on SATURDAY 20th January, kick-off 5.00pm. Travelling supporters to meet at Bar Tambalache at 4.00pm.
Directions to ground (fingers crossed!!) turn right off N332 towards Santa Pola, turn right at first island, ground is on the left after right hand bend. Don't know if entrance is this side. If not, continue to next island and turn left, then left again at next island, the ground entrance hopefully is on the left.
Photo's by David Winder