NOTHING WAS GOING to make these chaps at Beacon Rock golf course near Portland, Oregon call off their round. (see main image)
THE BRITISH ARMY in the 19th century needed a base, and after a survey the sleepy village of Aldershot Heath in Hampshire was selected. It soon became a large military town. In 1883 the Royal Aldershot Officers golf club was formed, prospective members were instructed to contact Lt. Colonel Sartorious, VC. One of it's distinguished members was Freddie Tait, a noted amateur who finished 3rd in the Open twice and won the Amateur in 1896 and 1898, before being killed in the Boer war. Being a military base, one of the competitions played against the course was christened a Colonel Bogey, which gave rise to the name.
Another famous army course is one of my personal favourites; Tidworth Garrison, overlooking Salisbury Plain. Originally constructed in 1908 by soldiers and locals as a 9-hole course it was re-designed as an 18-hole course by Harry Colt after the first World War, the work being carried out by German P.O.W.'s.
Sadly, both courses have now mostly lost their link with the military. We would have known where to get hold of our much-reduced army in an emergency if it was playing in a foursomes at Aldershot.
TEAM CAPTAIN ALBERT MACKENZIE said after Great Britain and Ireland won the PGA Cup: "It was a team effort, there was no individual glory here." After winning the foursomes, America's hopes of taking home the LLandudno Trophy vanished in the singles as the tournament became a 7.5-2.5 rout. Great result against our old rivals, but to paraphrase Basil Fawlty: "Don't mention the Walker Cup!"
SOUTH AFRICAN HOME FAVOURITE Brandon Stone claimed his 2nd European Tour title with a 7 shot victory at Leopard Creek Country Club in the Alfred Dunhill Championship. Leopard Creek, on the border of Kruger National Park, is set in spectacular surroundings. Although the course is fenced off so elephants and larger animals can't come through, Darren Clarke did circumnavigate a leopard in a tree as he drove back to his lodge.
Snakes are another hazard, rarely seen on the course during the day, although maintenance director Derek Muggeridge did have one close call. "I was driving along the cart path with my foot hanging out of the golf cart when I felt something on my leg," he recalled, "I looked down and saw that I had hooked onto a Black Mamba and it was hanging on my foot. I swerved and fortunately it fell off and was left spinning on the path!"
THE 2017 PRESIDENTS CUP (USA vs Rest of the World) is taking place in New Jersey. America has won 9 of the 11 previous biennial matches, so in similar vein to England vs Germany soccer matches there will probably be a close fought battle between the two teams, then America will take home the trophy.
THE SITE OF THE ITALIAN OPEN on 12th October has been moved for the second time. The prestigious European Tour event will now be held at the Golf Club Milano in Monza, once the royal hunting park of the king of Italy. In January, the site was switched from the Olgiata club in Rome to the Royal Park I Roveri club outside Turin. However, Turin, like Rome, failed to come up with the necessary funding. If Milano can't stump up the cash for the tournament it will probably be held on waste ground behind the Naples Industrial Estate.
THE SERGIO GARCIA FOUNDATION is hosting the third Andalucia Masters at Real Club Valderrama from October 19-21st, the last European Tour stop in Europe before it heads to China, Turkey, South Africa and Dubai. Sergio, 2nd in the Dubai Rankings, will be defending his 2011 title, but Tommy Fleetwood and Jon Rahm currently 1st and 3rd will be snorting and pawing the ground behind him.
THE PILOT of Ricky Fowler's private jet attempting to put down in hurricane-force winds in Hawaii: "We will shortly be landing at Oahu airport, or near it anyway!"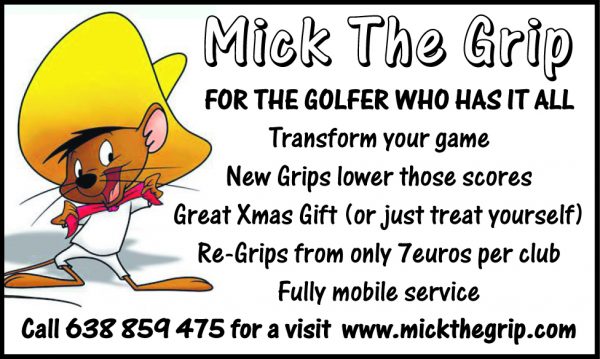 Until next time – Happy Golfing.
Contact Mick for your regripping and repairs. 638 859 475.