A fire devastated 3 hectares of an abandoned farm in the Guardamar Campo on Thursday evening including a palm orchard and a barn the Guardamar village. Fortunately, however, the firefighters from Torrevieja, Almoradí and the Guardamar brigade prevented the flames from spreading to areas around the perimeter of the La Mata and Torrevieja natural parks
The blaze began yesterday at 8:30 p.m. as the fire destroyed some 30,000 square meters of agricultural land in the Campico de Guardamar del Segura. Three fire tenders attended from the park Vega Baja Sur-Torrevieja as well as one from the Almoradí's sub-division and the Guardamar-based forestry brigade. They were able to cut off and extinguish the fire in about an hour and a half, according to sources from the Provincial Firemen's Consortium.
With the outbreaks located close to the Marjal de Pego and the Sierra Mariola the main concern as the bomberas tackled the fire was that the flames did not extend to the area surrounding the protected perimeter of the natural park of the two lagoons at Torrevieja and La Mata.
However the column of smoke created by the blaze was visible from the N-332 where it passed through the Guardamar municipality. At this stage the causes of the fire still to be determined.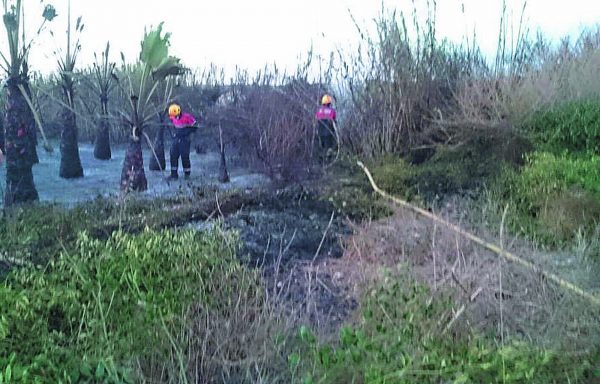 On a day of sweltering temperatures Guardamar was not the only municipality affected by fire as there were unexplained outbreaks in Pego, in an area adjacent to the Marjal and in Agres, in the foothills of Sierra Mariola.
The Pego fire was controlled by 21.20 hours, after mobilizing three air units assigned to Alicante, two aircraft and one helicopter, as well as second helicopter from Valencia, in addition to two fire tenders from Denia. The fire cut across the road that connects Pego and Oliva.
The fire in Agres occurred in the foothills of the Mariela Mountain Range, again causing concern that it would reach the nearby natural park. Fortunately two air units from Valencia, two fire vehicles from the town of Cocentaina and two units from the local forest brigade, managed to control the blaze in a little over an hour.
The fire destroyed about 1,000 square meters of land, mostly brushwood and crops.