A total of 54 people have now been reported as injured following the train accident in at the Estación de Francia in Barcelona this morning, according to information received from the Civil Protection Directorate General of the Generalitat.
Of those, one is in a serious condition, whilst 19 with lesser injuries are said to have been transferred to hospital needing treatment.
All of them have been transferred to the hospital Sant Pau, del Mar, Clínic y Sagrat Cor, as well as los Cuaps de Pere Camps, Sant Martí y Manso.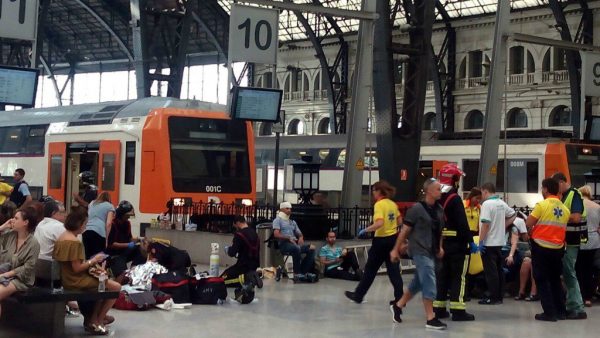 According to media reports from the scene of the incident, el conseller de Territorio y Sostenibilidad, Josep Rull, explained that he had been able to talk to the driver, who is still in a state of shock.
The accident occurred at 0715 hours this morning (Friday) when the Rodalies train from Sant Vicenç de Calders (Tarragona), arrived in Barcelona station. Reports said the train did not brake when entering the station, hitting the buffers at the end of the platform.
As a result of the impact, the 54 passengers were injured, many of which were subsequently moved to a number of different medical facilities.
According to eyewitnesses, the accident has not stopped trains arriving in the station, although the platforms adjacent to the affected line have been closed whilst the investigation into the accident is carried out.
The Generalitat has activated Catalonia's Civil Protection Plan for rail emergencies due to the accident whilst Barcelona City Council has activated its Emergency Action Plan for Multiple Victims.
Minister Josep Rull explained to the media that the train was just beginning to slow down when it ran into the buffer at the end of the track although quite why action to slow the train had not been taken earlier was not known.
He said that "If the train hadhit the buffer at full speed there would have been a far more serious incident with an unforeseeable outcome," but at this stage he wanted to be "extremely cautious" when assessing the details of the incident.
Rull also highlighted, and congratulated, the emergency services for their very quick response.
Inspectors from the Metropolitan Transport Safety Team, attached to the Transport Division of the Mossos d'Esquadra, will be in charge of investigating the incident, which is already underway.
It is not yet known whether any Brits or Irish nationals are among the casualties.
Meanwhile hundreds of trains were cancelled after trade union members promised to stop working between midnight and 11pm Friday.