He's been a very busy man of late, what with the successful state visit to the United Kingdom, that speech at the Palace of Westminster and the subsequent dinners and other engagements carried out alongside his wife, Queen Leticia last week.
But with his father, Don Juan Carlos, also in London attending the Wimbledon tennis finals, King Felipe travelled back to his native Spain where a full round of weekend engagements saw him handing out commissions to 196 new officers at the Naval Military School in Pontevedra.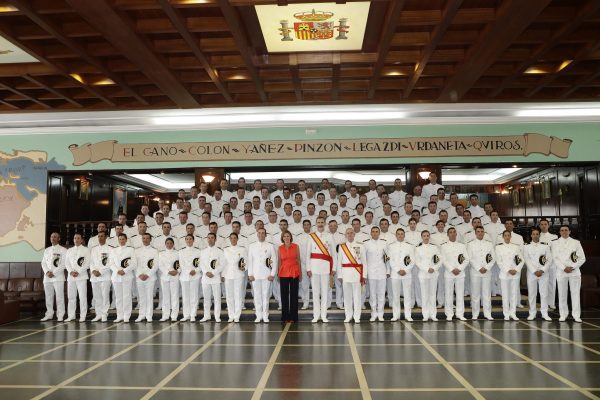 Alongside the Minister for Defence, María Dolores de Cospedal, and the Chief of Staff of the Navy, Admiral General Teodoro López Calderón, the king commissioned 107 officers into the navy and a further 89 officers into the Common Defence Corps which includes the Corps of Marines, the Corps of Engineers, Military Police, Corps of Music, the Medical Corps, Infantry and the Legal Corps.
The event began with a tribute to those who gave their life for Spain, followed by the oath to the for 67 first-year candidates that are entering the General Corps and the Marine Infantry.
The Naval Military School, whose origin is the Marine Guard Academy was founded in 1717. It is the only training centre for the Navy Officers. It is also a higher education centre and teaches up to 19 different courses across the whole spectrum of defence education.
This was the Kings second visit to the Naval School in less than two months, after presiding over the celebrations of the 300th anniversary of the creation of the Marine Guard Company in early June.