The Ivie Davies memorial day turned out to be a fantastic day for all of the 24 players that went off to Fonte Del Llope, but it was the ladies that dominated the golf this day, Ivie would have liked that. The weather played its part and the course which was in great condition played well. The results were as follows;
Nearest the pin on the par 3's were greedy Mike Thomas (3) Rob Vaughan and Dave Shelton. Nearest the pin in 2 was Steve Wild, best front nine Rob Litton, best back nine Steve Wild. In third place was Rob Vaughan with 33 points, in second place Glynis Thomas with 35 points and in first place was Michelle Evans with 41 points, I think there may be a handicap cut coming her way.
We returned to Rayz bar on El Raso where our hosts provided a fine meal for all the players and their wives, this was followed by a large raffle for generous prizes provided by various golf courses and businesses on and around El Raso, we thank them all for their generous support for this event. An auction followed for a couple of other prizes, and with the generosity of all the people that bought raffle tickets and had a bid in the auction the total raised for Cancer Research was 1000 euros.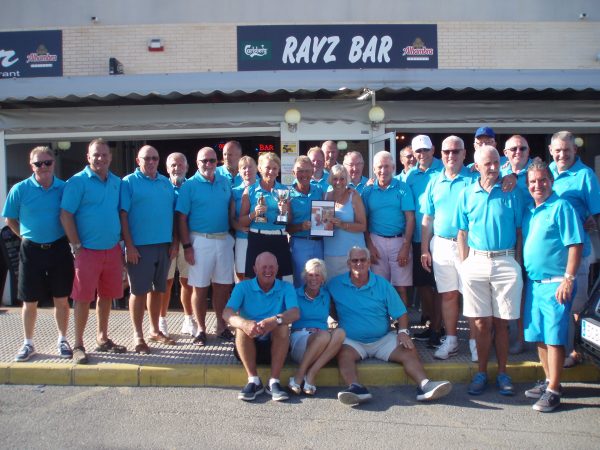 Many thanks also to Robert Scott and Tony Harrison who provided the trophy's for this event.
All in all a great day with great support and the overall winner being Cancer Research.
For information regarding the above or any other fixture on our calendar please contact rubysgolf@yahoo.co.uk