The former secretary general of the PSOE, Pedro Sánchez, was in Orihuela Last Sunday to pay tribute to Miguel Hernandez in the year commemorating the 75th anniversary of the poet's death.
The politician visited the House Museum of Hernandez, where he has had a brief meeting with militants and PSOE supporters.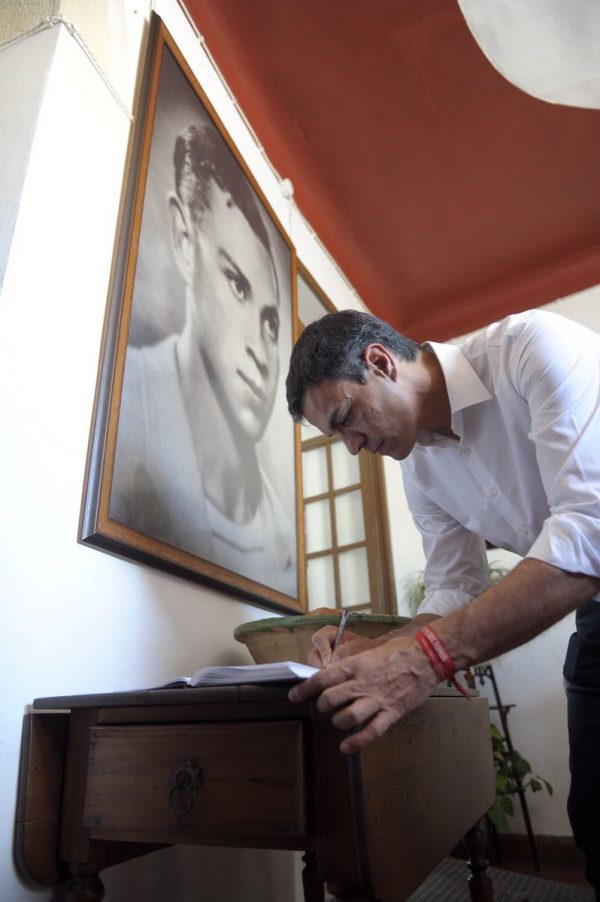 On his arrival members of the Association 'Social Forum' Orihuela and the group 'Theater Expression' read verses penned by the poet including 'Song of the soldier's husband' and 'Last Song'.
Sánchez has also signed the Museum Visitors Book of the Casa Museo, where he left his message: "To the people of Orihuela, to the example of commitment, sensitivity, dedication given by their celebrated poet, hoping that we will all build a World more just."
At the door of the Casa Museo he made the anticipated political speech where he reproached the PP government for cuts in education, particularly subjects such as humanities, literature, arts and philosophy.
Following his visit to the Miguel Hernández House Museum, the Orihuela Socialists presented Sanchez with a replica of the mural painted in the San Isidro neighborhood by Pepe Azorín dedicated to the 'Paloma Atada'.