Bumper celebratory crowd expected at Municipal Stadium, Los Montesinos on Sunday April 30
BY ANDREW ATKINSON
CD Montesinos are Champions of the Segunda 2nd Regional Group 16 – in what has been a record breaking 2016-17 season for the Los Montesinos, Alicante based club.
Under coach Carlos Perez, CD Montesinos clinched promotion to the 1st Regional, following a 6-2 away win at Deportivo Orihuela CF 'A' on Sunday – gaining promotion for the first time in the club's history – that brought tears of emotion.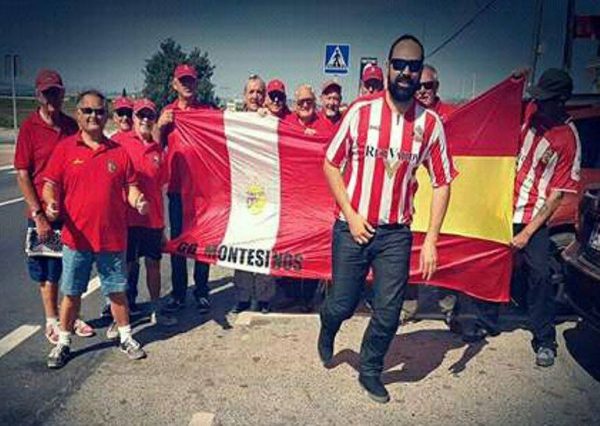 Coach Carlos Perez and President Felipe Parades said, in a joint statement: "We thank both the CD Montesinos Committee and the Supporters Club for their support, and for all they do to help the club."
CD Montesinos's season got off to a dreadful start when losing the opening two games of the campaign – 3-1 against CD Benijofar and a 4-1 home defeat against CD Murada – leading to the manager being axed and the appointment of Carlos Perez.
"Manager Carlos Perez came to the club in October, having lost the two opening games. His technical staff and all the players turned the season around – they've been magnificent," Supporters Club President Eddie Cagigao told me.
Monte striker Carlos Ventura scored four goals in the 6-2 win at Deportivo Orihuela CF 'A', with goals by Dario and Vazquinho completing the rout.
Benijofar defeated Grupo Caliche 2-0, to go into second place, on 47 points from 22 games. Third placed Callosa 'B' drew 1-1 against FB Redovan 'B' (43 points from 20 games) fourth placed CD Murada drew 1-1 against CFP Orihuela (41 points from 20 games). Atletic Orihuela defeated Sporting Orihuela 6-1.
Numerous parties are to be celebrated in the coming weeks – with a bumper crowd expected when CD Montesinos host Grupo Caliche CF in the final game of the 2016-17 season at The Municipal Stadium, Los Montesinos on Sunday April 30.
"Massive thanks goes to everyone associated with the club, from President Felipe Paredes Aldeguer and his hard working committee," said Supporters Club President Eddie Cagigao.
CD Montesinos have a plethora of supporters at the Vega Baja club in 'The Full Monte' Supporters Club: "Massive thanks also goes to the club´s International Supporters club, The Full Monte," said Eddie.
"They have supported the club – home and away – for a number of seasons and helped bring record numbers into the Campo Municipal de Futbol this season," added Eddie.
"Clinching promotion was very emotional – tears were shed. Ex-President of the club, Jaime attended the game," said Eddie.
Celebrations will continue at CD Montesinos 'Player of the Year Awards' evening on May 18 in Los Montesinos.